Slide Library for PowerPoint
Easily manage PowerPoint slides company-wide with the innovative Slide Library from empower®
Over 3 million people already trust empower® to create professional Office documents.
More time for the really important things
easy
Your PowerPoint Asset Library
With the empower® slide library you can easily manage PowerPoint content company-wide. All your colleagues can access slides and presentations at any time via the slide library. The latest content is always delivered automatically. Update slides and presentations for the entire company with one click. You can find and insert the right slides in seconds. Share content with your colleagues so everyone benefits from the entire company's knowledge.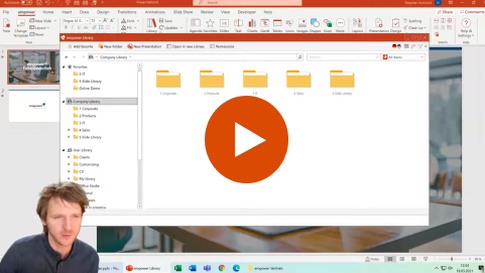 The advantages of the empower® slide libraries include:
Enterprise-wide management of PowerPoint presentations, templates, slides, images, and elements
Slide library / template library integrated directly into PowerPoint - no need to switch to a browser
Easy Google-like search
Up-to-date content across the enterprise with one click
Slides and presentations available in multiple languages and automatically translated
All content accessible offline
Simple permissions management via Active Directory
Future-proofed for the Digital Workplace
Simple enterprise collaboration
Detailed information on the functionality can be found on our product page empower® for PowerPoint.
efficient
---
Useful features of the slide library:
Directly access all existing PowerPoint slides and presentations as well as pre-formatted templates
Quickly find the right slides and content
Easily assemble presentations with ready-made content
More numerous productivity tools make formatting and presentation creation easier for you
Efficient sales enablement for your sales colleagues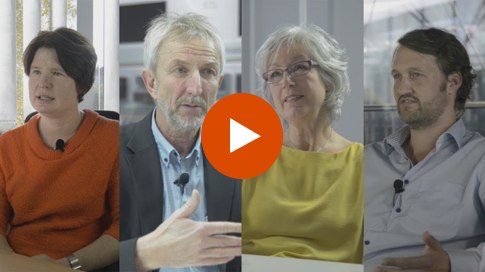 Save time with the empower® slide library for PowerPoint
How many hours have you spent searching for the right content? Or formatting slides? In our study we identified the biggest PowerPoint time wasters: formatting slides and searching for templates, images, and icons.
empower® eliminates those productivity enemies and enables you to create presentations up to 30% faster. The central empower® slide library contains pre-formatted presentations, slides, diagrams, and icons. Simply drag and drop the appropriate content into your PowerPoint presentation. Slides can be managed, edited in team members, and updated directly in PowerPoint. Find the right content in seconds with Google-like full-text search. No more wasting hours finding the right slides. Access the data of the empower® slide library even offline thanks to full synchronization.
More efficiency with a central slide library and updates
Preview: Content Creation explained in one minute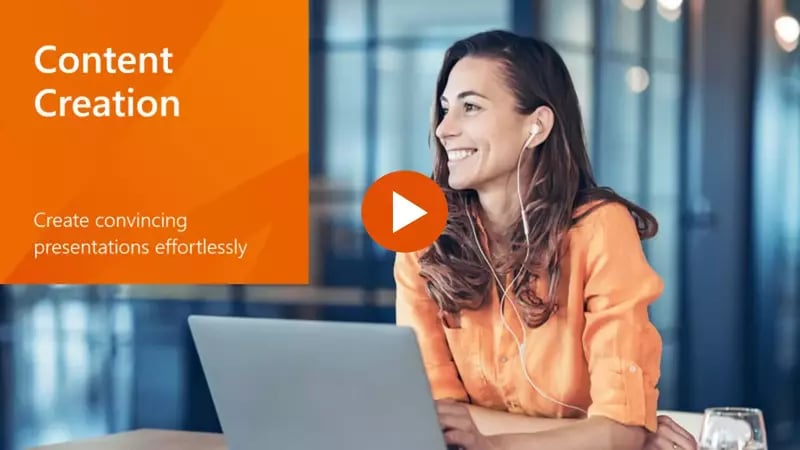 Want to learn more? Then watch the detailed online demo video now, with a detailed view at the main features of empower® Content Creation:
Stop wasting time - experience maximum efficiency when creating presentations.
Learn how to create complex business charts in a snap.
See how easily you can automate reports and eliminate formatting tasks.
Fill out the form and see Content Creation in action.
Great alternative to the Microsoft SharePoint slide library
SharePoint is often used for slide management in companies. However, with SharePoint 2013, Microsoft abolished the slide library component because of poor customer adoption. SharePoint's slide library integrated clumsily with the slide library in PowerPoint, its search was insufficient search, and it was unstable. The slide library of empower® solves all those problems. It completely replaces your SharePoint slide library and offers further advantages for you.
Efficient slide library without SharePoint
Make all your PowerPoint content available to the entire company in the empower® slide library. Share existing content and strengthen collaboration across the organization. Enhance your brand communication by embedding your design guidelines directly into PowerPoint. Deliver all your brand assets directly in PowerPoint. At the same time, you and your colleagues can work more productively and save time for the really important tasks.
The PowerPoint slide library that strengthens your brand
Facts & Figures
empower® is the world's leading developer of Office solutions. From our headquarters in Cologne and offices in New York, London, Paris, and Zurich we support our customers around the world. Since our founding in 2005, we've been working to save time and money for our clients. We're proud of four numbers that keep growing:
Do you want to make Office 365 more efficient and faster? Experience our empower® solutions for Brand Control, Content Creation, Content Enablement and Document Automation.