Easily manage Outlook signatures for all your employees
empower® for Microsoft Outlook
Over 3 million people already trust empower® to create professional Office documents.
empower® for Outlook makes managing signatures in Outlook easier, more efficient and brand compliant
With the empower
®
Outlook add-in, administer email signatures and templates for all your organization's legal entities, locations, advertising banners – directly within Outlook. Email signatures company-wide comply with your corporate requirements. Always up-to-date – on-premises or in the cloud.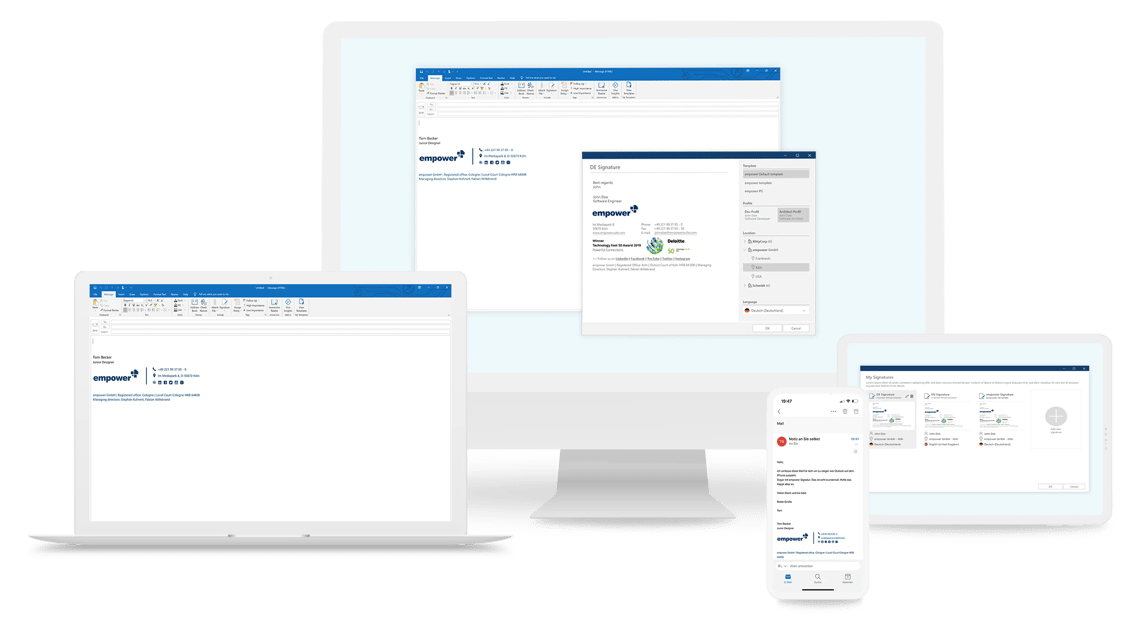 Get started with empower®
empower® makes working with Microsoft Office easier, more efficient and brand compliant.
easy
---
Create email signatures company-wide
empower® for Outlook ensures that everyone in your organization uses the correct email signature format. All email signatures comply with legal and design requirements. When you first start Outlook, empower® sets up as many signatures as you need, even in multiple languages if required. User data is imported from Active Directory and can be edited manually. When sending on behalf of someone else, you can select their signature too.
Signature Configuration managed easily
empower® Mails enables easy creating and customizing of email signatures with all legal information, logos and advertising banners. Admins can manage all signatures directly within MS Outlook.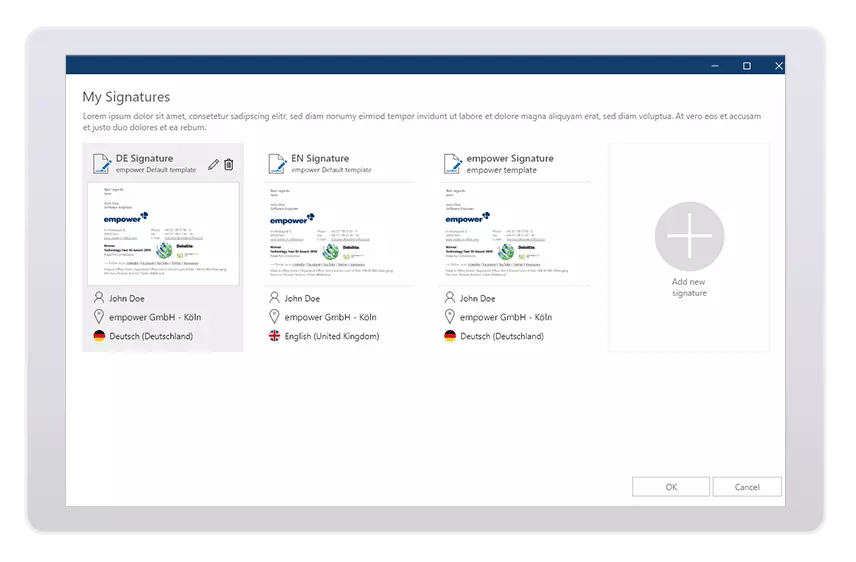 Did you know?
One suite to replace many add-ins
Simplify your Microsoft 365 environment by replacing many other add-ins with empower®. The result? Reduced complexity, lower costs, and access to best-in-class functionality for your users.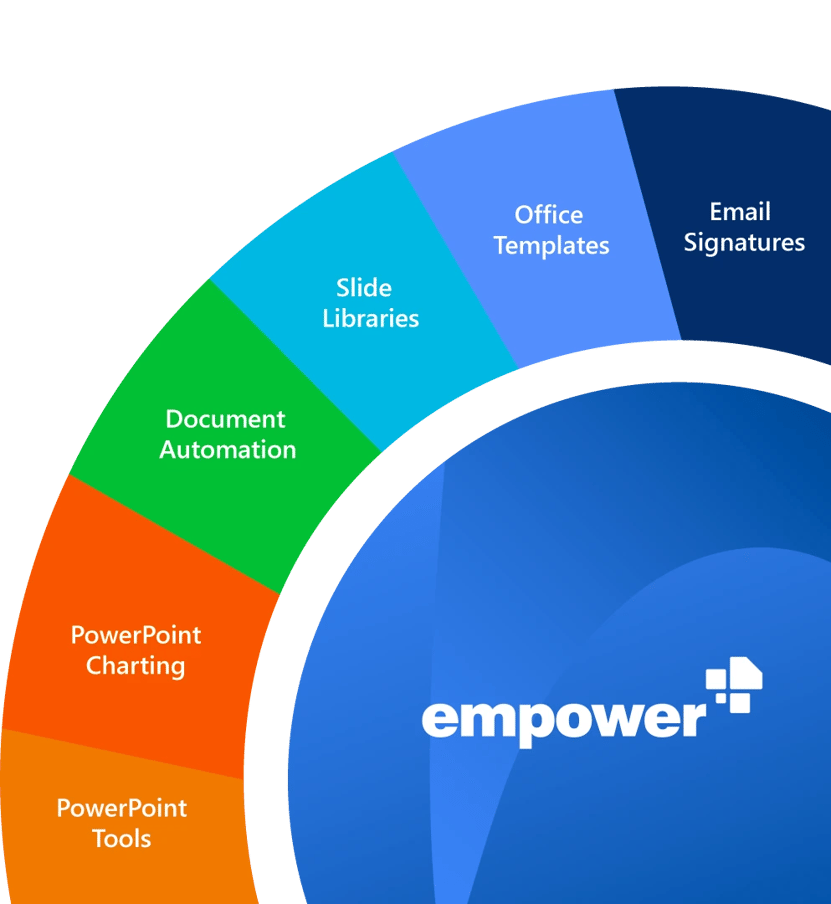 efficient
---
Update email signatures faster than you can say, "Where do I find this setting?"
Admins can customize signatures directly within MS Outlook in just a few minutes. Define a Signature Template with Dynamic Placeholders for users to fill in. The empower® Outlook add-in supports signature formats for any number of offices, brands, languages, and even ad banners for campaigns.
Automatic Updates for Signatures
Exceptionally practical: Your organization's contact and legal information gets inserted automatically from the central empower® database. Changes to organization data and Signature Templates are automatically synchronized to everyone.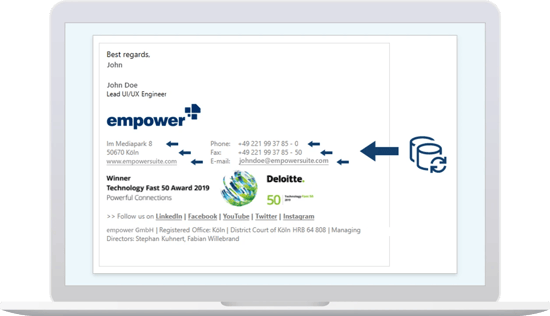 brand compliant
---
Every email 100%
brand compliant
With empower® for Outlook, every email uses the appropriate, up-to-date signature, including correct layout, logo, font, font size, and font color.
Format Pickers & Default Settings
Centrally provided Signature Templates and design settings ensure a uniform, brand compliant appearance for every email. empower® for Outlook includes customized Font and Color Pickers that help people stick to your corporate design.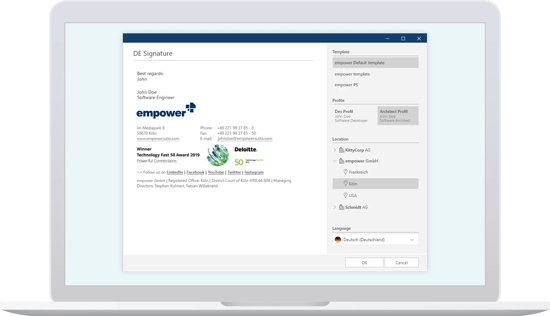 A sneak peek at the detailed demo video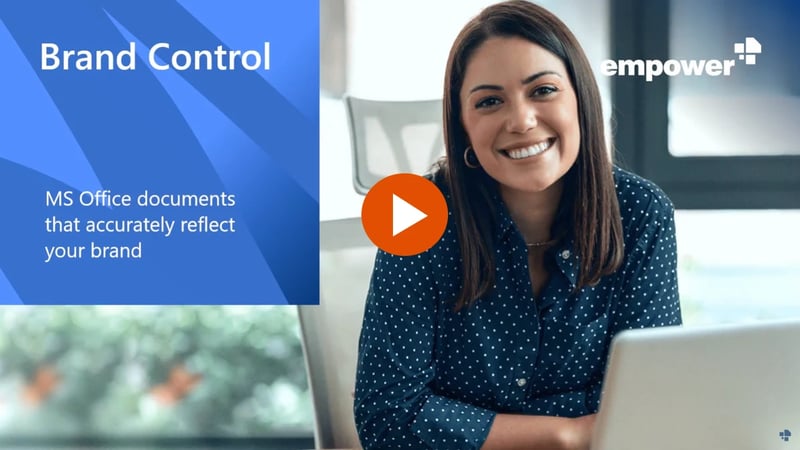 Register now for a more detailed look at the main functions of empower® Brand Control:
With empower® Brand Control, employees in all departments don't have to choose between branding and efficiency anymore.
You can effortlessly manage and optimize all your brand assets and keep them updated and available at any time.
Fill out this short form to directly access the demo video and see Brand Control in action.
Learn how you can easily convert existing content to your latest design.
IT requirements
---
Future-proof Enterprise Class Software
empower® is designed for enterprises of all sizes: from small sophisticated firms to global enterprises with more than 100,000 users. empower® uses state-of-the-art technology and a modern architecture to ensure high performance, stability, and scalability in every situation.
Best-in-class Performance
With empower®, users always enjoy the best possible user experience. empower® for Outlook's unique architecture ensures that Outlook never slows down or hangs.
Optimized for Microsoft 365
empower® is optimized for Microsoft 365. Thanks to our close relationship with Microsoft, we can ensure that empower® is compatible with the latest Office releases at any given time.
Cloud or On-Premises
empower® can be hosted within your company's IT infrastructure, your company's private cloud, or alternatively in our managed Microsoft Azure cloud. Enjoy quarterly updates and the option for "hands-on" setup for easy deployment.
Office Online Web-Add-in
The empower® Library is also accessible as a web add-in for Office Online. You can easily open documents, presentations, individual slides, images, or icons in a new browser tab and then copy them over to your active document.
Enterprise-Class Integrations
The empower® Outlook add-in integrates with all your existing applications like DAM, PIM, Teams and SharePoint. In addition, custom extensions can be developed according to your wishes.
Do you want to make Office 365 more efficient and faster? Experience our empower® solutions for Brand Control, Content Creation, Content Enablement and Document Automation.
Download our brochure
All information about empower® at a glance!