Manage all Word templates company-wide and worry-free
empower® for Microsoft Word
Over 3 million people already trust empower® to create professional Office documents.
empower® makes Microsoft Word easier, more efficient and brand compliant
Create correctly formatted, well-behaved, brand compliant documents in Microsoft Word quickly and easily. Start fresh with instantly searchable, up-to-date, approved content. Integrated with Word, at everyone's fingertips. Efficiently manage the centralized Library from within Word itself. Always available, online and offline. On-premises or in the cloud.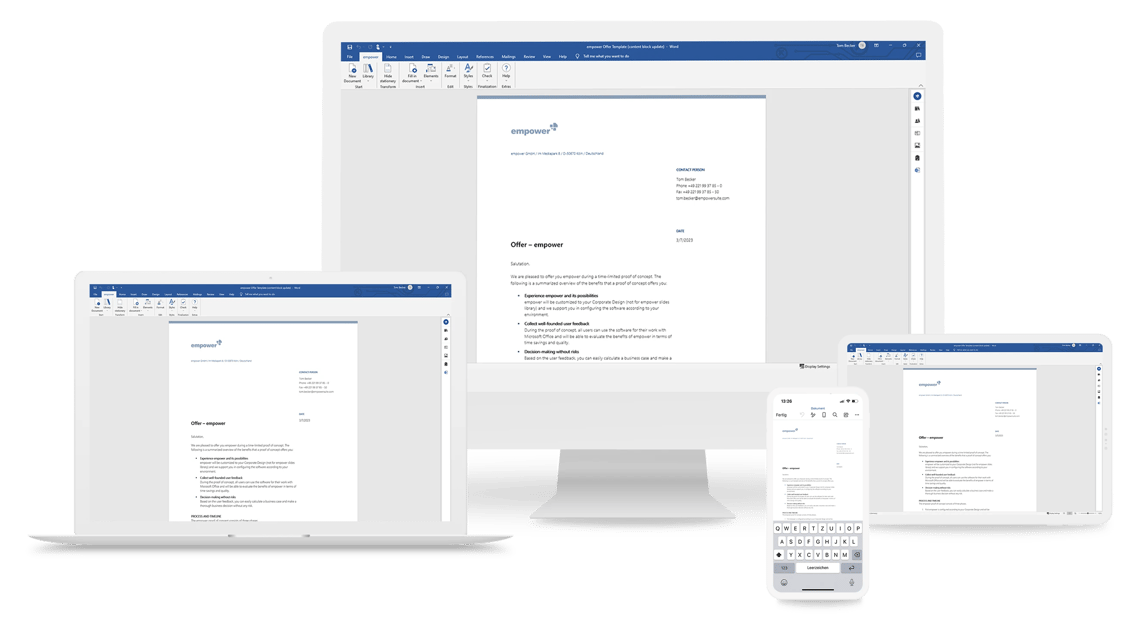 Get started with empower®
empower® makes working with Microsoft Office easier, more efficient and brand compliant.
easy
---
Manage all Word templates, documents, content effortlessly
empower® gives you complete control over your organization's document production. Provide everyone with templates, clauses, and more from a central Library, directly within Word. Manage your content elements in empower® or integrate a third-party Digital Asset Management (DAM) system whatever you prefer. Insert appropriate letterheads and legal content automatically. Support any number of languages – users can switch locations and languages with a couple of clicks.
A central Library for Templates, Clauses, Images – any standard Content
Instantly distribute up-to-date content across your entire organization. Control access via Active Directory. empower® for Word provides the assets everyone needs, whenever they need them, always immediately accessible.
Legal Information always up-to-date
When legal information changes, such as business entities, locations, or members of the board, all templates automatically adapt and existing documents can be updated with just a few clicks.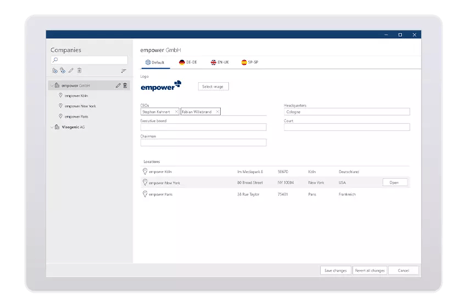 Easily manage
user profiles
empower® pulls user-profile data from Active Directory. People can update their own empower® profile in MS Word. Profile information can be translated into different languages.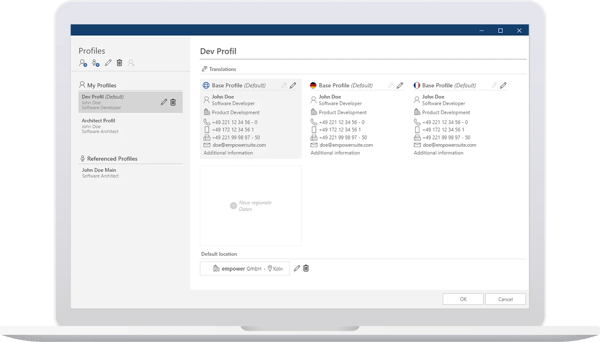 Asset library
The empower® Library provides convenient access to all document assets. With just a few clicks, authorized users can add elements to the Library directly within Word.
Google-like search
empower® includes a Google-like Search that covers all Library content including notes and metadata. A machine-learning algorithm ensures that the best search results appear up top, based on an analysis of the prominence, frequency, and position of the search term as well as each asset's popularity.
Rights Management
empower® connects to Active Directory, Azure AD, and OKTA. Within empower® , you can assign rights to folders for individual users or entire groups. Four roles are available at the folder level: Reader, Author, Editor, and Administrator. An additional role, Corporate Design Admin, can manage all central settings such as corporate design rules.
Offline Availability
empower® synchronizes either the entire Library or selected folders from the central database to everyone's computer. People can quickly create and edit documents wherever they are – even when they're on a plane or working somewhere with limited or no online connection. And empower® always runs fast and smooth thanks to its cached offline functionality.
Document Protection
With empower® you can protect templates and other assets so only authorized people can edit them. That reduces the risk of unauthorized content contaminating the Library. Everyone can consume empower® content, confident that no one has modified it without permission.
Did you know?
One suite to replace all your add-ins
With empower®, you can simplify your Microsoft 365 environment by eliminating all other add-ins. Your benefits: less complexity and lower costs, while providing your users with best-in-class functionality.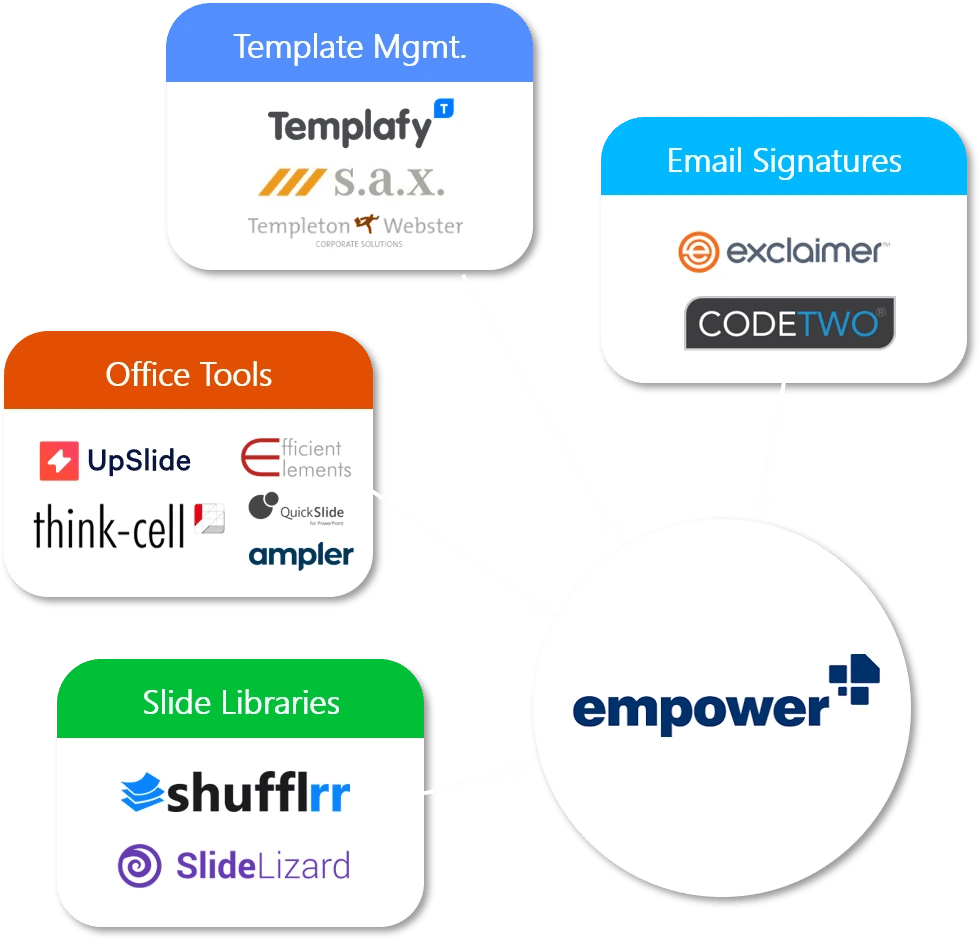 efficient
---
Create documents faster with re-usable elements
Re-usable content accelerates document production. No need to search for and cannibalize old documents for new purposes. Instead, the empower® Asset Library makes it easier generate high-quality documents by starting from a convenient template and pulling in approved content as needed.
brand compliant
---
Total brand compliance
empower® embeds your organization's house style directly in Word. Ensure uniform, approved fonts, colors, and layouts in all documents. Your templates are configured so they can be edited easily with stylesheets.
Corporate Colors, Fonts and Styles
Guarantee consistency with on-brand fonts, sizes, and colors. Locked templates help enforce design requirements.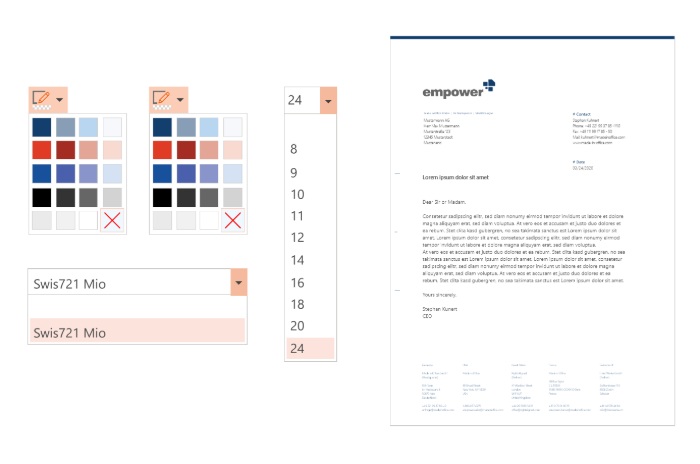 Preview: Content Enablement explained in one minute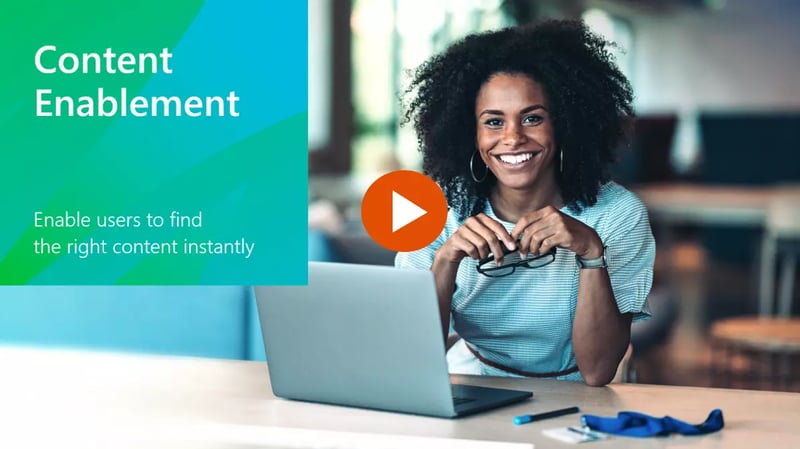 A detailed look at the main functions of empower® Content Enablement:
How does the empower® library work and how do you connect Microsoft Teams or Sharepoint?
Get to know our web library and learn how to keep documents up to date through updates.
Fill out this short form to directly access the demo video and see Content Enablement in action.
IT requirements
---
Future-proof Enterprise Class Software
empower® is designed for enterprises of all sizes: from small sophisticated firms to global enterprises with more than 100,000 users. empower® uses state-of-the-art technology and a modern architecture to ensure high performance, stability, and scalability in every situation. With innovative apps for Word Online and Microsoft Teams, empower® is integrated into the next generation of Office 365.
Best-in-class Performance
With empower®, users always enjoy the best possible user experience. Our software's unique architecture ensures that Word never slows down or hangs. And opening large document is faster than ever.
Optimized for Microsoft 365
empower® is optimized for Microsoft 365. Thanks to our close relationship with Microsoft, we can ensure that empower® is compatible with the latest Office releases at any given time.
Cloud or On-Premises
empower® for Word can be hosted within your company's IT infrastructure, your company's private cloud, or alternatively in our managed Microsoft Azure cloud. Enjoy quarterly updates and the option for "hands-on" setup for easy deployment.
Office Online Web-Add-in
The empower® Library is also accessible as a web add-in for Office Online. You can easily open documents, presentations, individual slides, images, or icons in a new browser tab and then copy them over to your active document.
Enterprise-Class Integrations
empower® integrates with all your existing applications like DAM, PIM, Teams and SharePoint. In addition, custom extensions can be developed according to your wishes.
OS
Works with Windows 8/10, Citrix and terminal servers.
MS Office
Works with all Office versions from Office 2010 including all Office 365 versions.
MS Teams
The empower® App for Microsoft Teams allows users to chat with the empower® Bot to retrieve content from the entire Library. A user can then directly open the document from within Microsoft Teams.
Sharepoint
You can connect empower® to SharePoint in either direction: synchronize data from SharePoint to the empower® Library or make dedicated empower® content available to SharePoint. Our dedicated empower® Integrations team will support custom integrations.
Infrastructure
Your data is yours. empower® can be hosted within your company's IT infrastructure, your company's private cloud, or alternatively in our managed Microsoft Azure cloud.
Architecture
empower® is built on a state-of-the-art service-oriented architecture: a client is installed locally that connects via HTTPS with services that store the data in a SQL server. The services can be deployed in multiple regions to ensure highest performance no matter where your users are located.
Integrations
empower® can be integrated with any third-party system: show your images and videos from your DAM/MAM in empower®, automatically create documents based on your PIM system, or simply connect to SalesForce to have all client communication in one place. Contact us and speak with our empower® Integrations team about your specific requirements.
Do you want to make Office 365 more efficient and faster? Experience our empower® solutions for Brand Control, Content Creation, Content Enablement and Document Automation.
Download our brochure
All information about empower® at a glance!