Convince with elegant Excel reports
empower® for Microsoft Excel
Over 3 million people already trust empower® to create professional Office documents.
empower®
– the efficiency booster for Microsoft Excel

Create elegant Excel sheets quickly with brand compliant tables, charts, and cell formatting. With a Library of Excel templates and content right within Excel itself, empower

®

will save everyone massive amounts of time crafting convincing Excel workbooks.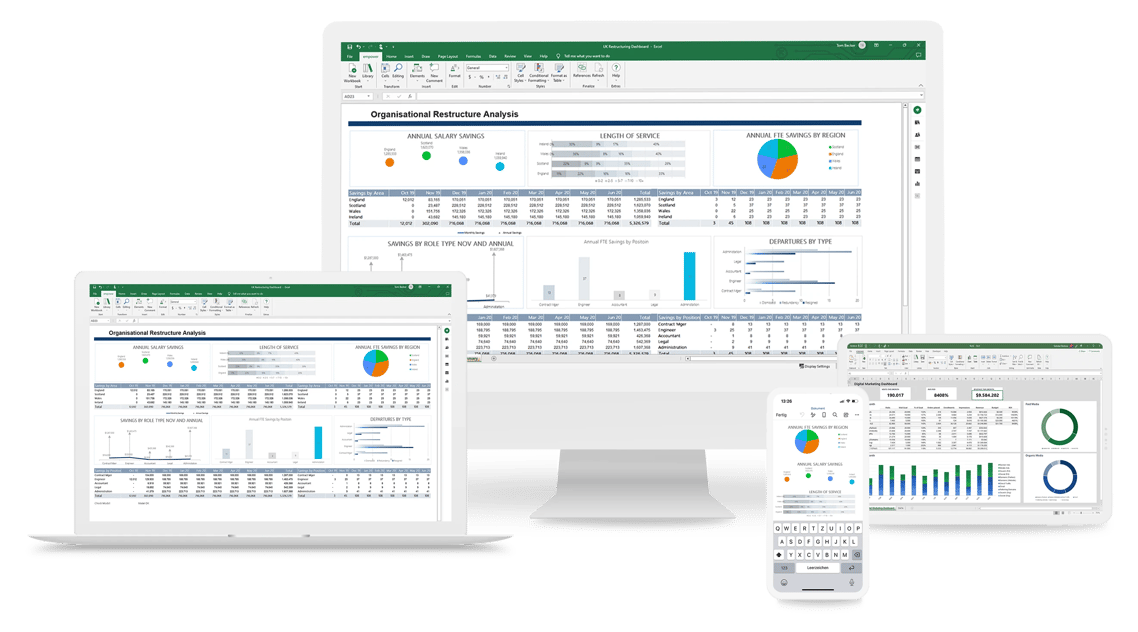 Get started with empower®
empower® makes working with Microsoft Office easier, more efficient and brand compliant.
easy
---
Boost productivity, reduce clicks
empower® streamlines working in Excel with templates and standard content in a centralized Library. Tedious formatting is a thing of the past: empower® provides uniform, corporate design-compliant tools for font, color, cell formatting, tables and charts. All changes to templates are synchronized company-wide. Every sheet is 100% brand compliant.
And empower® multiplies its effectiveness via integration with PowerPoint. Simply copy or link an empower® Excel chart into a PowerPoint slide. Changes in Excel will update in the PowerPoint copy as well.
Template Workbook Library
The empower® Library makes it easy to manage and deliver corporate design-compliant templates for workbooks, charts, tables, and other assets. People can search and find what they need, when they need it, right within Excel itself.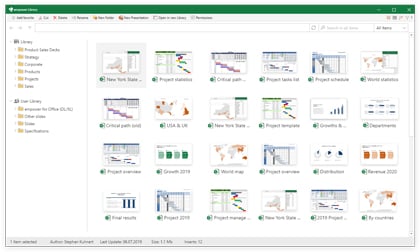 Did you know?
One suite to replace all your add-ins
With empower®, you can simplify your Microsoft 365 environment by eliminating all other add-ins. Your benefits: less complexity and lower costs, while providing your users with best-in-class functionality.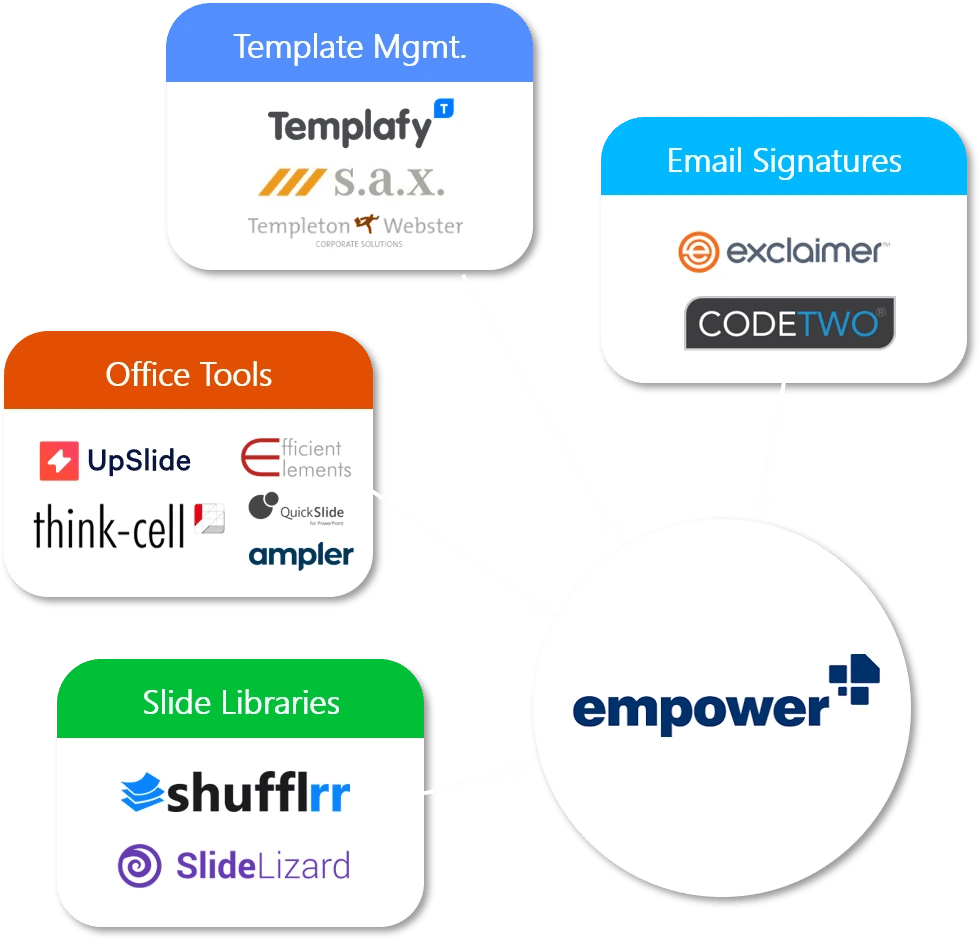 efficient
---
Accelerate Excel
As Microsoft Office experts, we know Excel inside-out. We've studied how people struggle with Excel, what wastes their time, where formatting and layout can be easier. We've incorporated our expertise in empower® so people can work more efficiently. Everyone becomes more effective, with more time for thought and accuracy, less time clicking around trying to get a spreadsheet to look good and behave.
Quick Formatting
Quickly format spreadsheets with predefined tables and charts. With empower® integrated into the Excel ribbon, everything you need is easy to find, front and center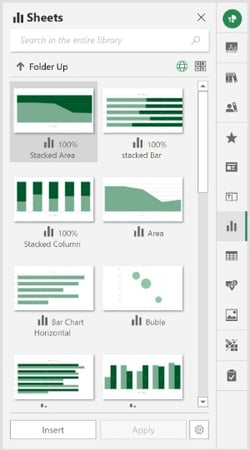 brand compliant
---
Every spreadsheet strengthens your brand
empower® embeds your brand in Excel. Guarantee consistency with curated, design compliant fonts, sizes, and colors. Expertly configured templates make editing easy.
Format Pickers, Chart & Table Templates
Uniform, corporate design-compliant tools for font, color, cell formatting, tables, and charts ensure every spreadsheet 100 % reflects your corporate design.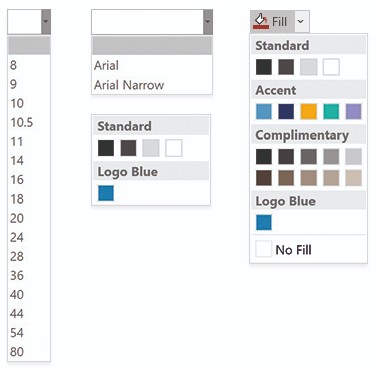 A sneak peek at the detailed demo video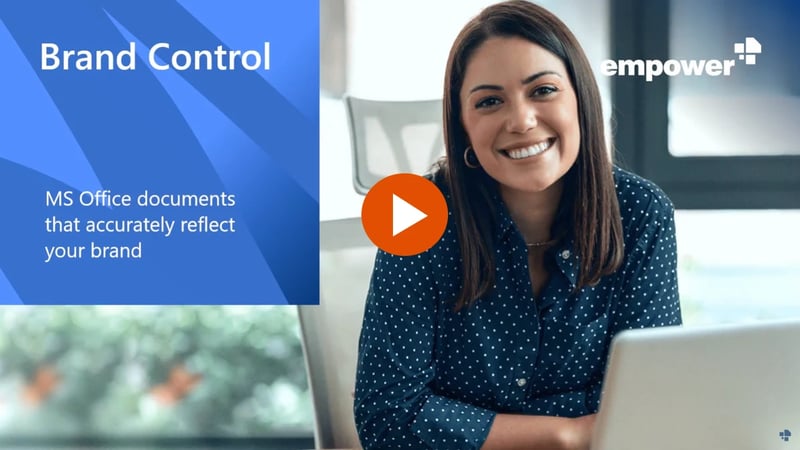 Register now for a more detailed look at the main functions of empower® Brand Control:
With empower® Brand Control, employees in all departments don't have to choose between branding and efficiency anymore.
You can effortlessly manage and optimize all your brand assets and keep them updated and available at any time.
Fill out this short form to directly access the demo video and see Brand Control in action.
Learn how you can easily convert existing content to your latest design.
IT requirements
---
Future-proof Enterprise Class Software
empower® for Excel is designed for enterprises of all sizes: from small sophisticated firms to global enterprises with more than 100,000 users. empower® uses state-of-the-art technology and a modern architecture to ensure high performance, stability, and scalability in every situation.
Best-in-class Performance
With empower®, users always enjoy the best possible user experience. Our software's unique architecture ensures that Excel never slows down or hangs. And opening large workbooks is faster than ever.
Optimized for Microsoft 365
empower® is optimized for Microsoft 365. Thanks to our close relationship with Microsoft, we can ensure that empower® is compatible with the latest Office releases at any given time.
Cloud or On-Premises
empower® for Excel can be hosted within your company's IT infrastructure, your company's private cloud, or alternatively in our managed Microsoft Azure cloud. Enjoy quarterly updates and the option for "hands-on" setup for easy deployment.
Office Online Web-Add-in
The empower® Library is also accessible as a web add-in for Office Online. You can easily open documents, presentations, individual slides, images, or icons in a new browser tab and then copy them over to your active document.
Enterprise-Class Integrations
empower® integrates with all your existing applications like DAM, PIM, Teams and SharePoint. In addition, custom extensions can be developed according to your wishes.
Do you want to make Office 365 more efficient and faster? Experience our empower® solutions for Brand Control, Content Creation, Content Enablement and Document Automation.
Download our brochure
All information about empower® at a glance!