Integrate empower® with your existing applications
empower® Integrations for DAM, SharePoint, PIM and individual extensions
Over 3 million people already trust empower® to create professional Office documents.
With empower® Integrations you create a uniform content management infrastructure
Integrate all your existing content management applications like DAM, PIM and SharePoint with empower®. Also individual extensions can be developed according to your wishes. All applications are intelligently linked to a uniform empower® platform.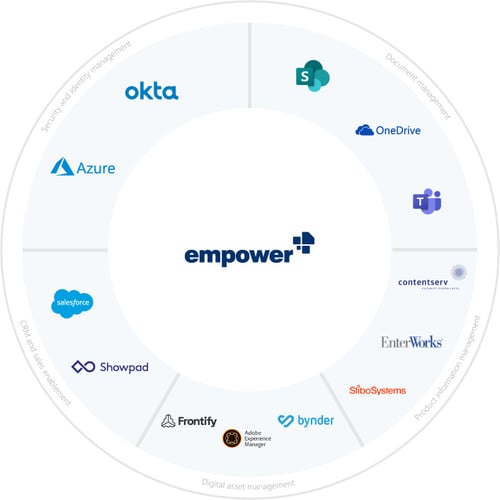 Get started with empower®
empower® makes working with Microsoft Office easier, more efficient and brand compliant.
DAM Integration
---
All images directly in MS Office
With the integration of your DAM system, all users can access all images directly in Microsoft Office via empower® and insert them into their Office documents with a single click. If desired, update messages and license expiration dates can also be considered.
Your template and asset management system for Microsoft Office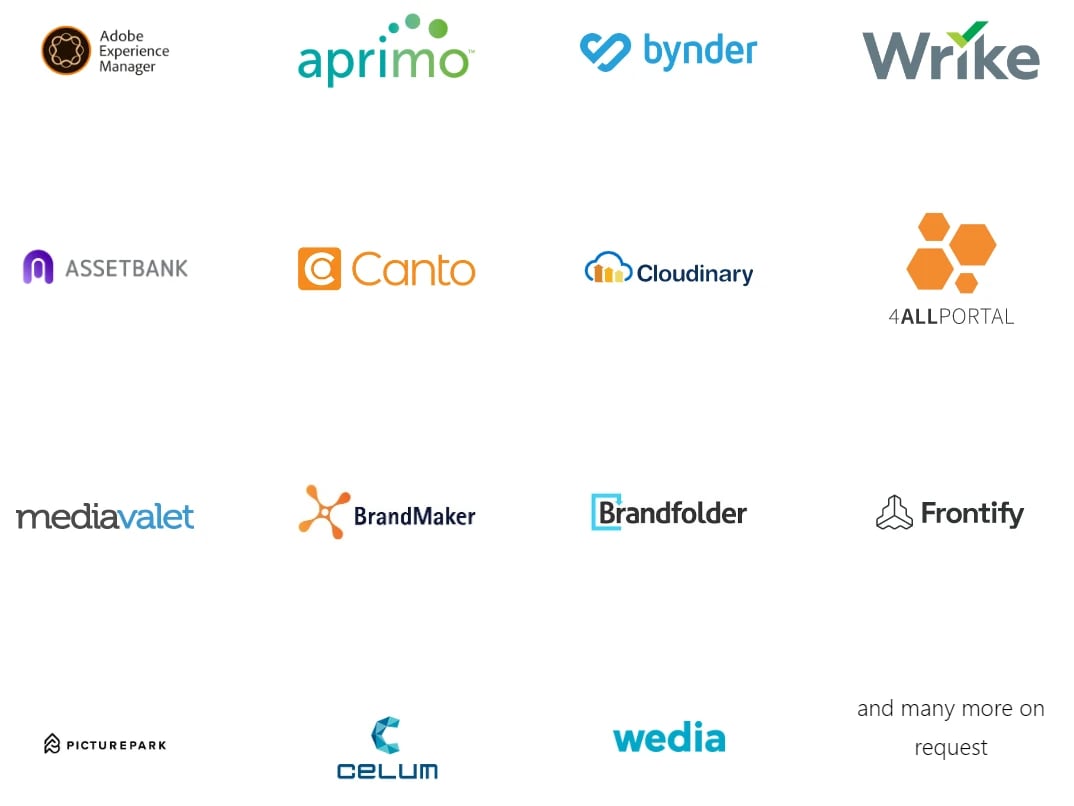 Frontify integration – together for greater brand consistency
As a single source of truth, the Frontify platform increases brand consistency and clarity and optimizes brand governance through dynamic brand guidelines, centralized assets, design systems, and templates to ensure on-brand marketing collateral.
The software consists of four modules: Brand Guidelines, Digital Asset Management, Creative Collaboration and Digital and Print Templates and an open API to connect it into any ecosystem.
Integration with empower® allows users to access images and icons stored in Frontify directly from PowerPoint and Word. You can insert them into your document with just one click. Images and icons can be searched and inserted without leaving the Microsoft Office environment. When inserting an image into a placeholder, empower® automatically selects the optimal image crop for a perfect result.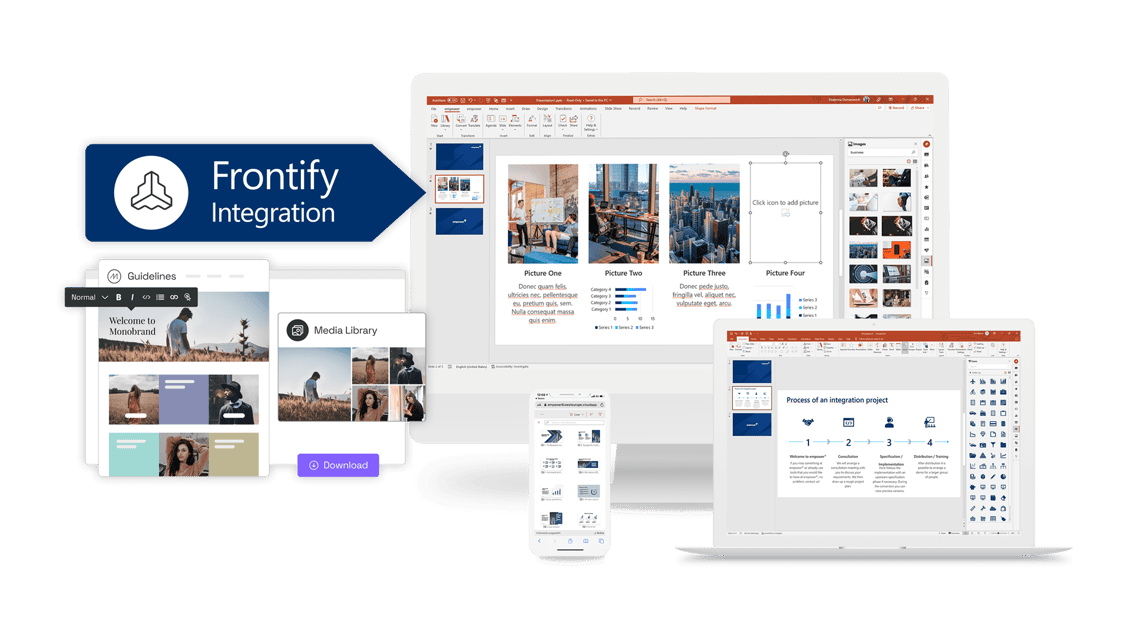 "Direct access to all brand elements at employees' fingertips across the Office package is crucial. That gives them confidence that they're constantly producing on-brand and up-to-date content. And that will enhance their efficiency and trust as communicators."
Miguel Funes
Lead for Technology Alliances at Frontify

DAM integration at Merck
Merck KGaA has introduced empower® company-wide as part of a revolutionary corporate design relaunch. The image world from the Adobe Experience Manager is integrated. When a user clicks on an image placeholder in PowerPoint, the right sidebar in empower® can be used to search directly for all images from the Adobe DAM and insert them with one button press.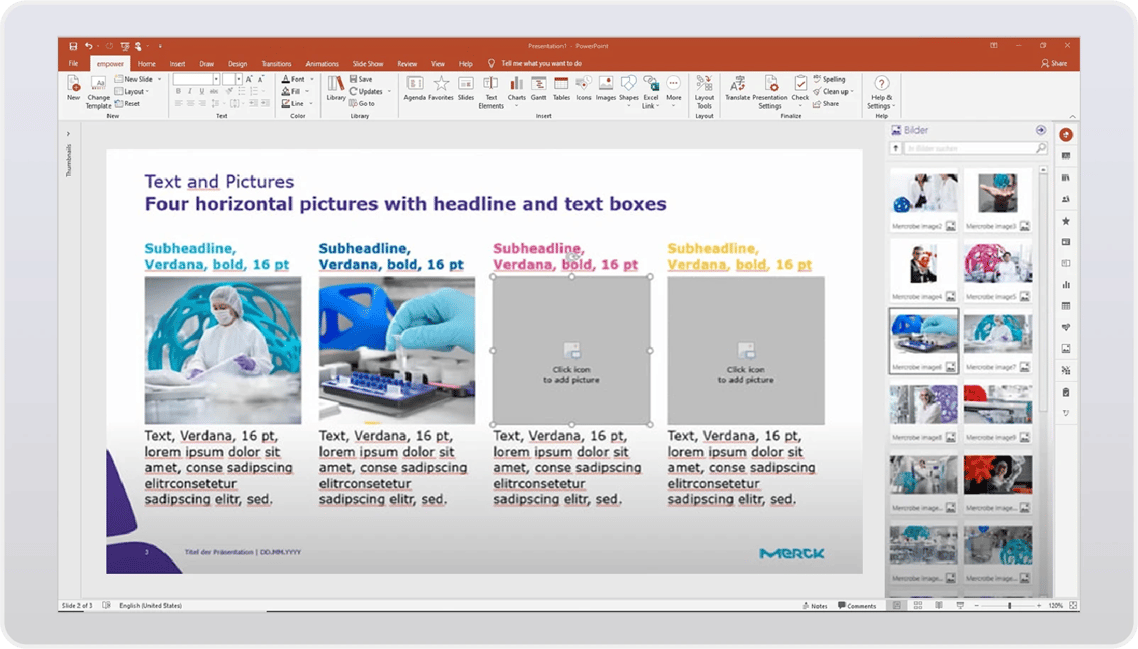 "The implementation of empower® was one of the best decisions we made within the branding project."
Brigitte Schneider
Head of Brand Design, Merck KGaA
I want to know more
Did you know?
One suite to replace all your add-ins
With empower®, you can simplify your Microsoft 365 environment by eliminating all other add-ins. Your benefits: less complexity and lower costs, while providing your users with best-in-class functionality.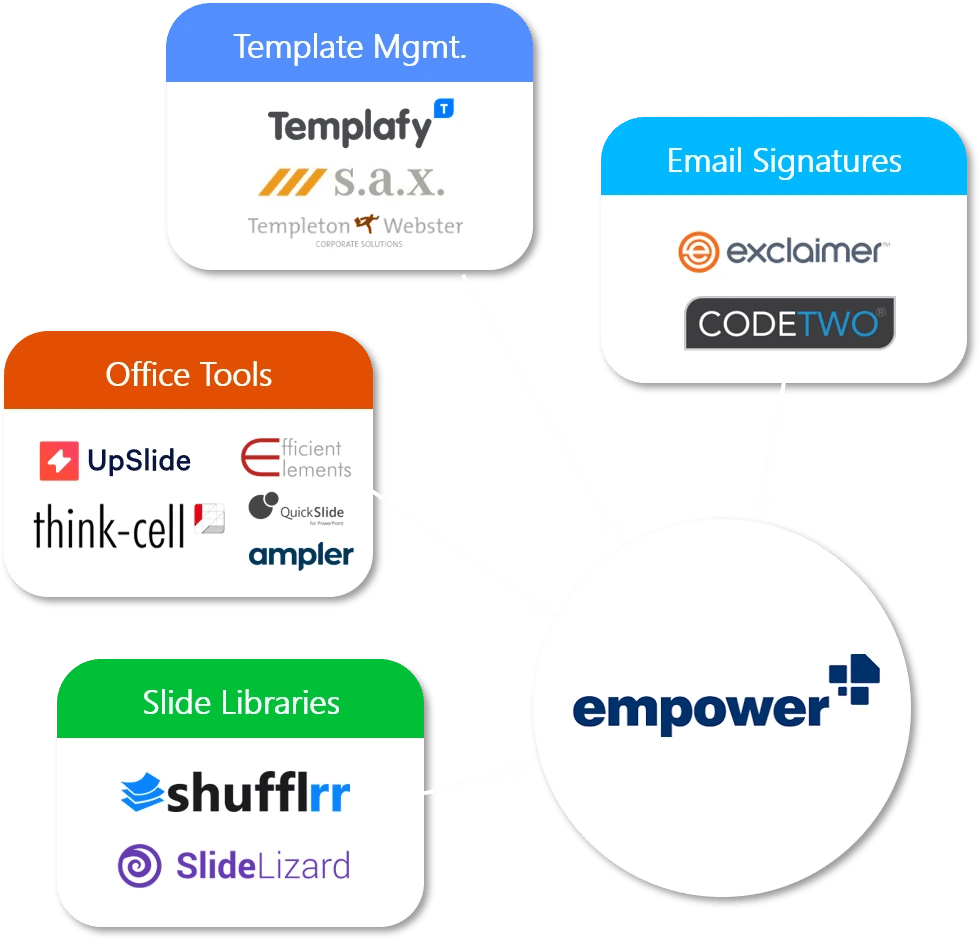 SharePoint Integration
---
Content from external data sources always up-to-date
Often there is already a large collection of PowerPoint slides before empower® is implemented. SharePoint is a very popular storage location and should be used further on if necessary. All this is not a problem, because thanks to a synchronization service data stocks can be kept synchronized between different sources like SharePoint and the empower® Library.

Functionality
The data from Sharepoint is exported to a selected storage location and new data is automatically requested here. If a presentation is adjusted or added in Sharepoint, the contents are also displayed or updated in empower®. If an outdated slide or presentation is opened, the user automatically receives an update message.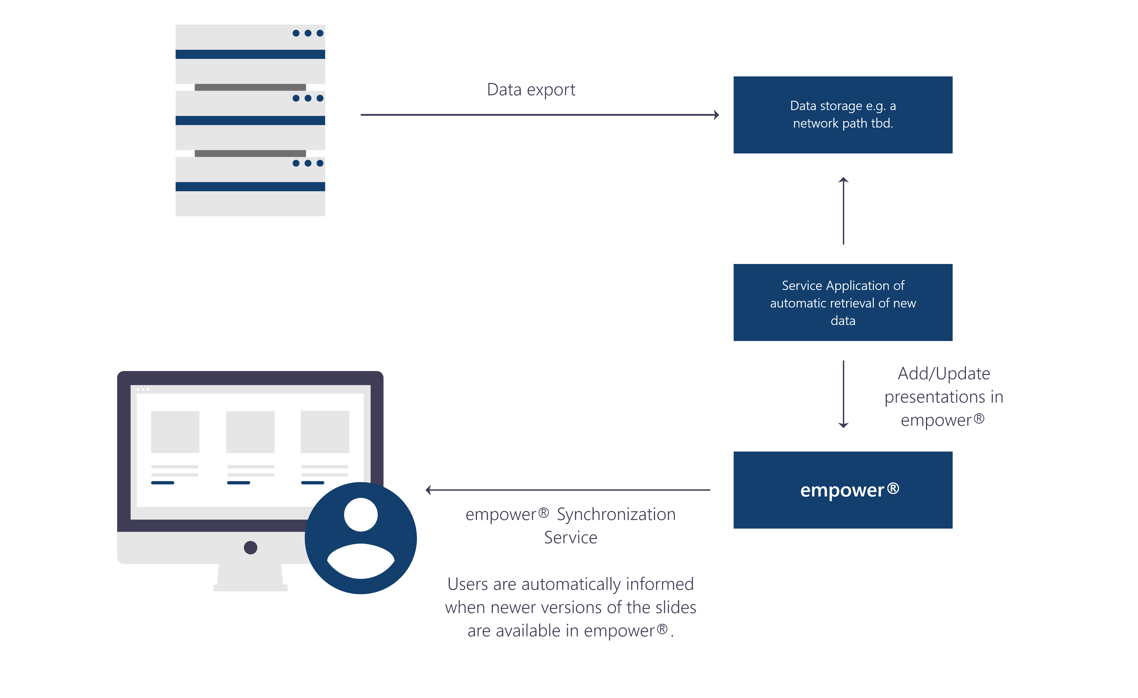 SharePoint integration at Union Investment
Thanks to our synchronization service, Union Investment now makes it possible for content in SharePoint to also be used with empower®. The Updates are done fully automated, with no need to interrupt people working in PowerPoint.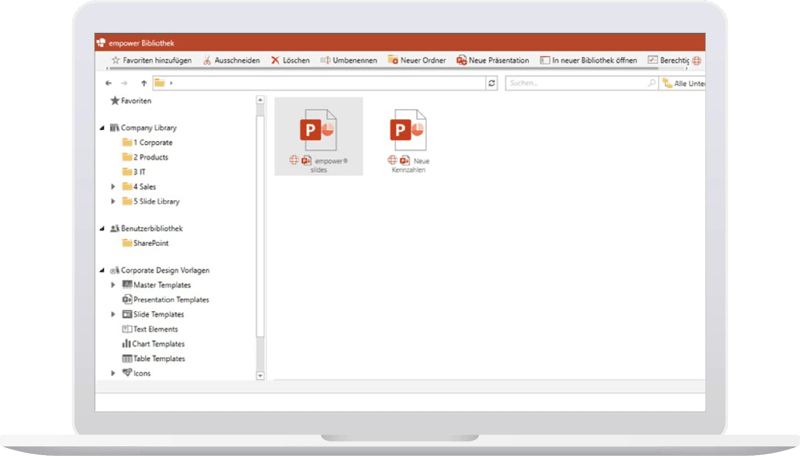 PIM Integration
---
Automatic creation of product slides
With empower® you can automatically create product slides for the products in your PIM system. empower® is informed about changes in the PIM, automatically creates or updates product documents and makes them available in the empower® Library - available offline and with update notifications.
We integrate with all known PIM systems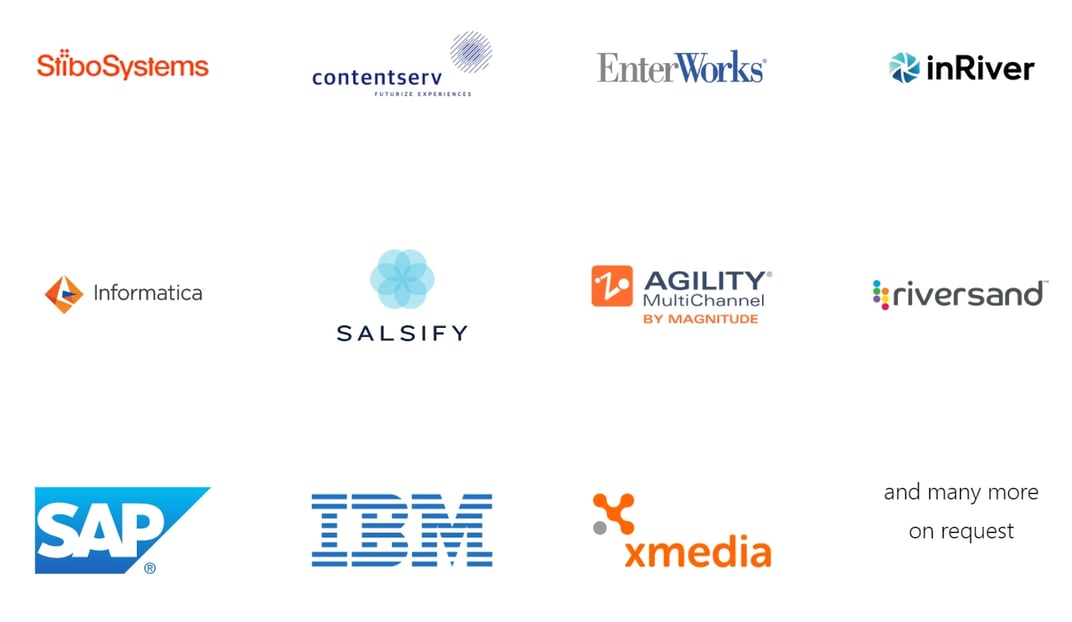 Functionality
If a new product is created in the PIM system or an existing product is updated, PowerPoint slides are automatically generated or adapted overnight in the empower® Library. The design of the product slides is centrally defined by you. Thus, even multi-page slides with images, videos or tables can be created. When opening outdated slides,empower® automatically provides an update for the slide.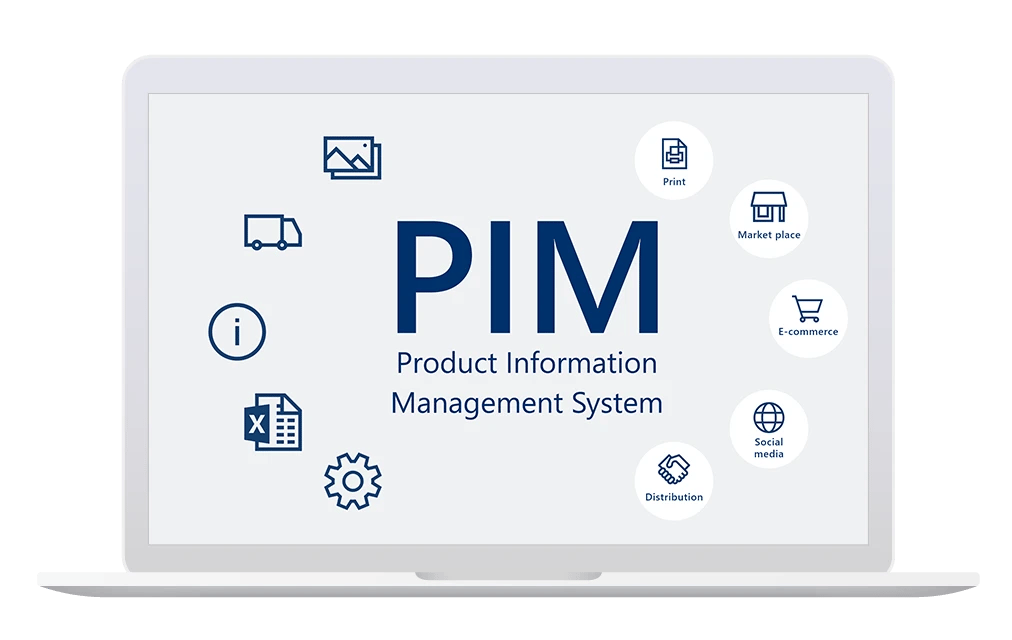 PIM Integration at ABUS
ABUS uses the PIM Informatica to manage its 700 products. With empower®, ABUS provides sales representatives and trainers with all product documents as PowerPoint presentations on their laptops and iPads, always up-to-date and offline. Thanks to the PIM integration, changes to products are automatically updated in all presentations.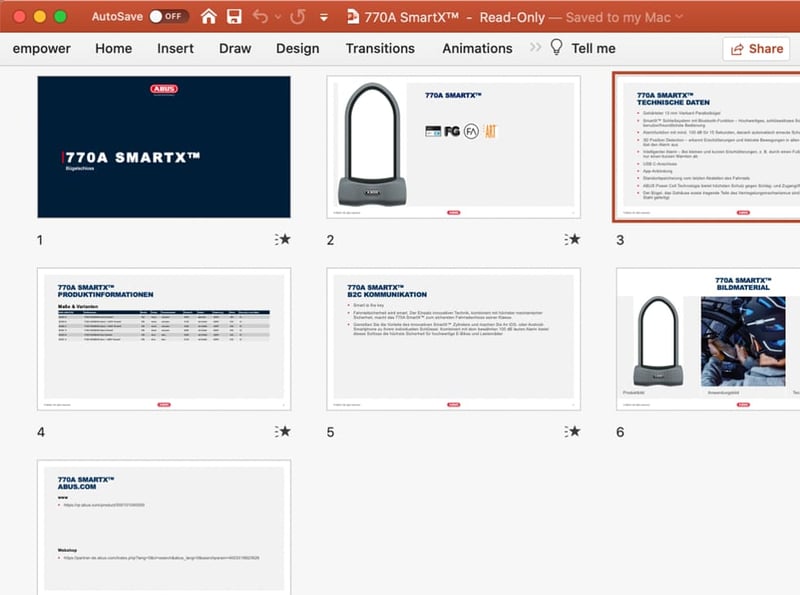 "With the empower® PIM interface we could almost completely avoid the enormous manual effort to create and update the numerous product presentations."
Torsten Mühlhoff
ABUS Corporate Projects
I want to know more
Extensions
---
Simplify and automate internal processes
In addition to the integration of existing management systems, individual solutions can also be developed for you and integrated into empower®. According to your wishes, individual processes in Microsoft Office can be simplified or completely automated.
Workflow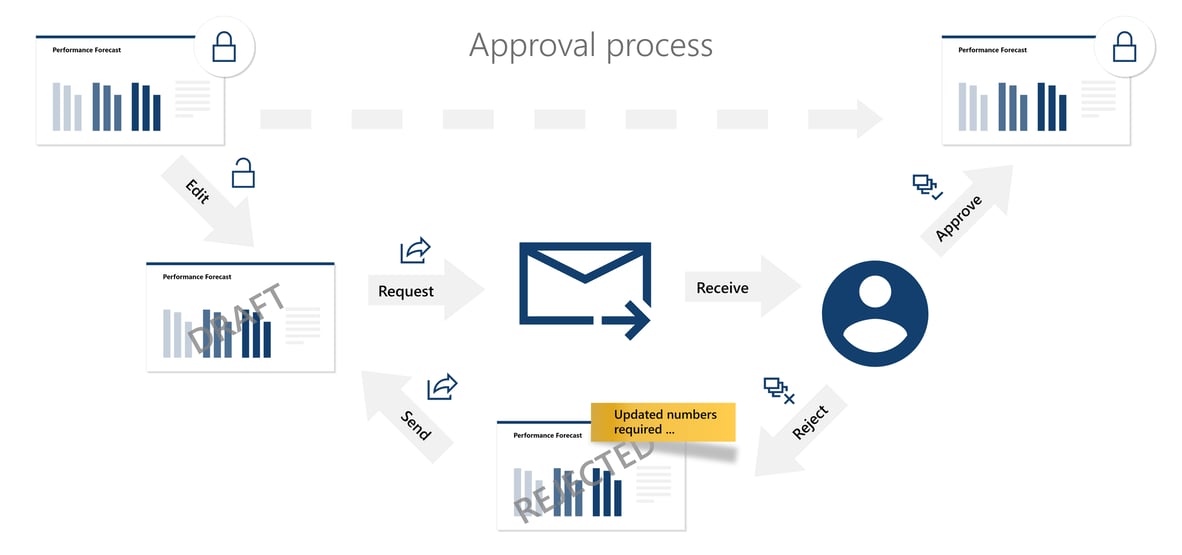 Extension for SoftBank Group
Softbank uses Dotapprove to check and share confidential content. With the empower® Extension "Compliance Module" the process is greatly simplified and guided. Besides functions like edit, approve or reject slides, actions can be commented and the slides can be sent directly to the requester via email. Approved slides can be protected against unauthorized changes.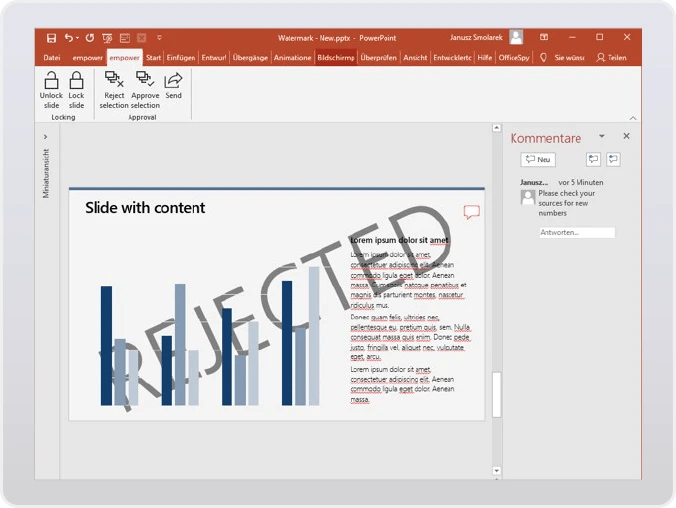 Download our brochure
All information about empower® at a glance!
Process
---
Your individual integrations
If you want to integrate or extend empower®, just contact us! After a briefing, the specification and development of your empower® Integrations follows. To ensure that the implementation completely fits your requirements, the implementation is done in close coordination with you. Optionally user training can be arranged after delivery.
Welcome to empower®
If you miss something in empower® or already use tools that you would like to integrate with empower® - no problem, contact us!
Consultation meeting
We will arrange a consultation with you to discuss your requirements. We then create a rough project plan.
Specification/ Implementation
Now follows the implementation with an initial specification phase if necessary. During the implementation you will receive preview versions for review.
Delivery/Training
After delivery it is possible to arrange a demo for a larger group of people.
Do you want to make Office 365 more efficient and faster? Experience our empower® solutions for Brand Control, Content Creation, Content Enablement and Document Automation.