Content Creation
Design compelling presentations with ease
Over 3 million people already trust empower® to create professional Office documents.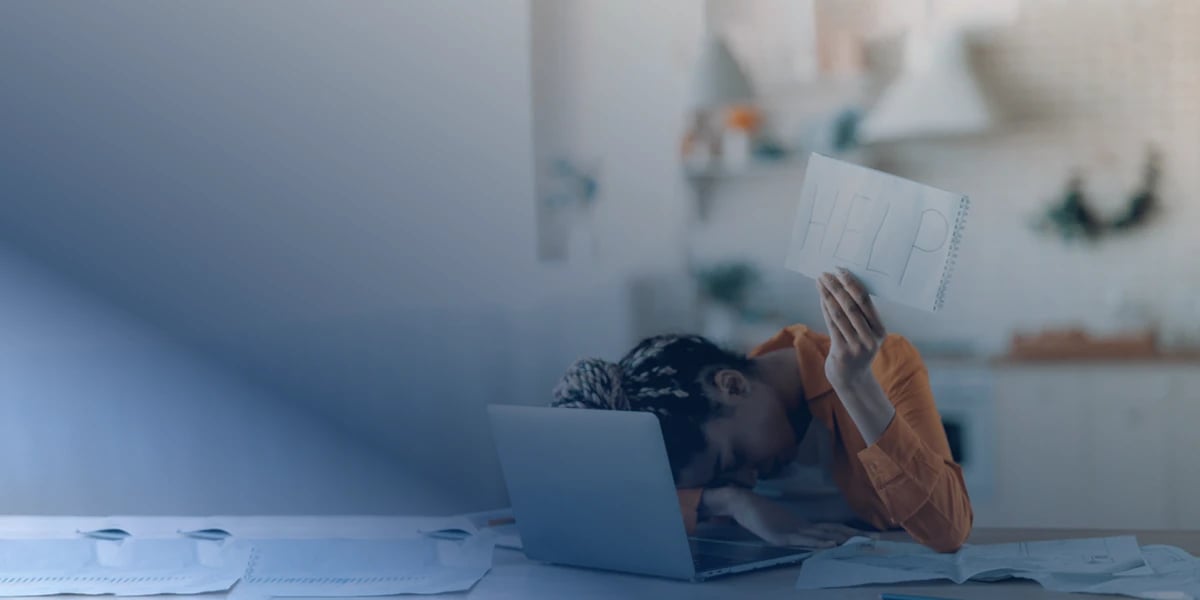 Fed up with tedious creation of PowerPoint slides?
Your employees spend countless hours creating presentations and yet the actual content falls short of expectations. Tedious formatting and charting take up most of their time, leaving no time to focus on what is essential: the content.
How do I illustrate this slide?
In presentations, it's crucial to explain things clearly and visually to increase the viewer's understanding. This requires both communication skills and deep knowledge of Microsoft PowerPoint. Very few people have both.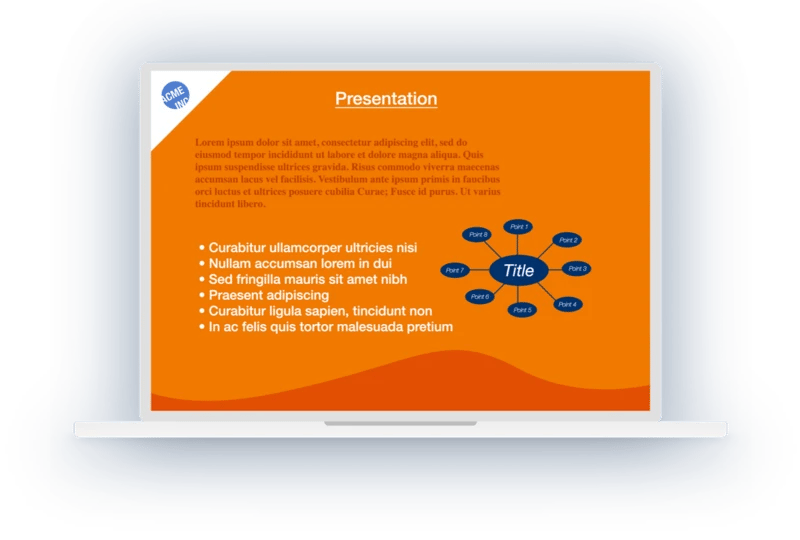 I'm tired of creating complex business charts!
Users often fail with diagrams in PowerPoint. Many functionalities are either not available or complicated or hidden. Even for PowerPoint professionals, creating charts often means endless formatting work.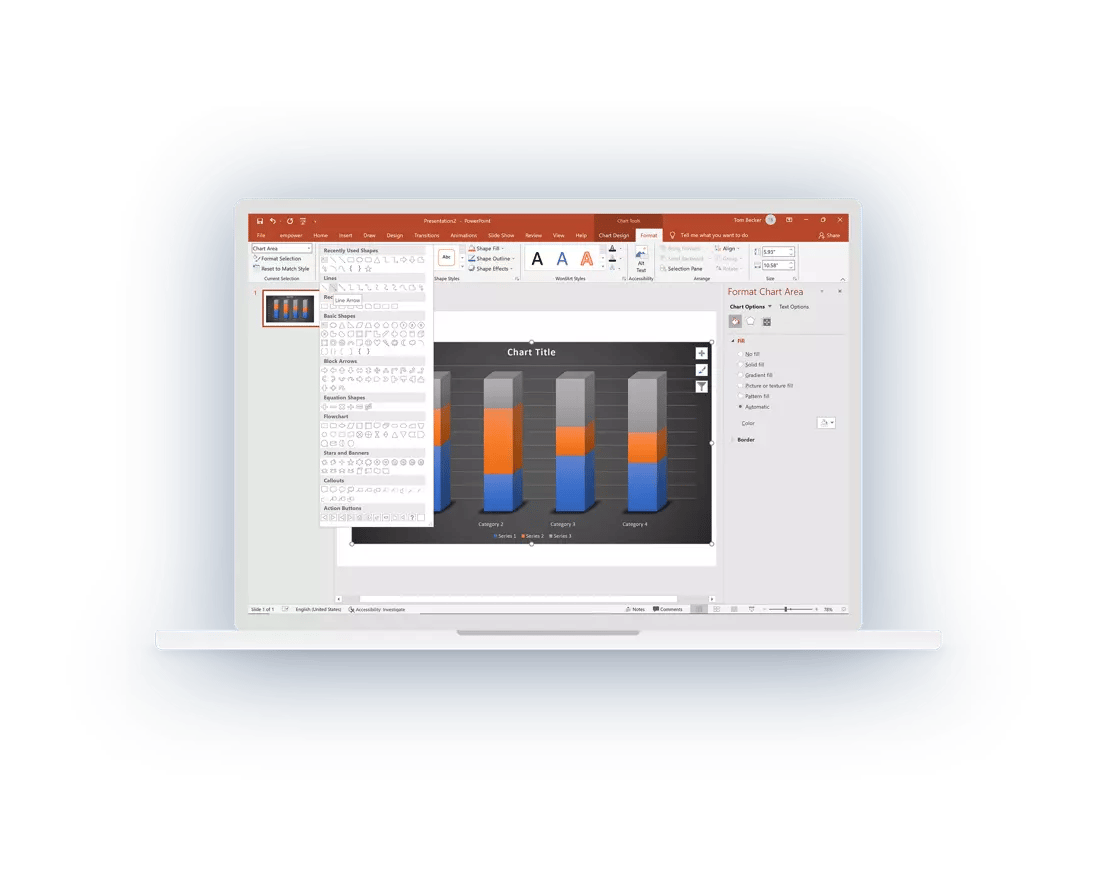 Are all charts already up-to-date?
Creating and maintaining report presentations is laborious because they contain tons of charts and other objects with links to data in Excel.

Which objects are linked to where? Are all required links really set? Do they all still work? When were the links last updated?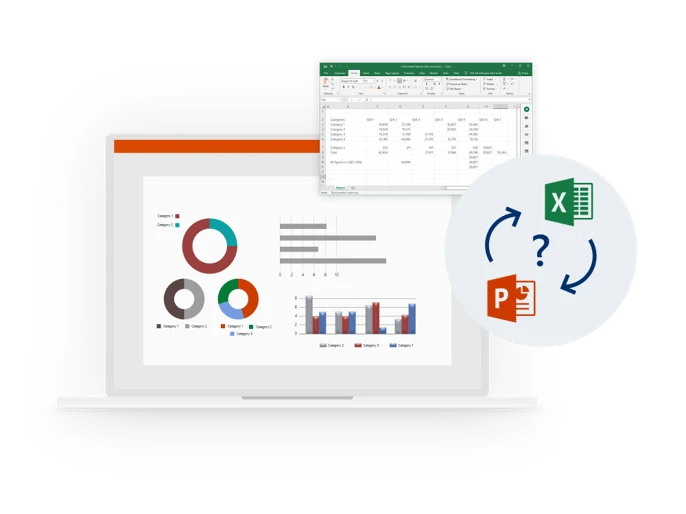 Format, format, format...
Flaws in presentations distract your audience from the core messages and can only be fixed with burdensome, meticulous formatting work. This isn't always successful, but always leads to time loss and frustration.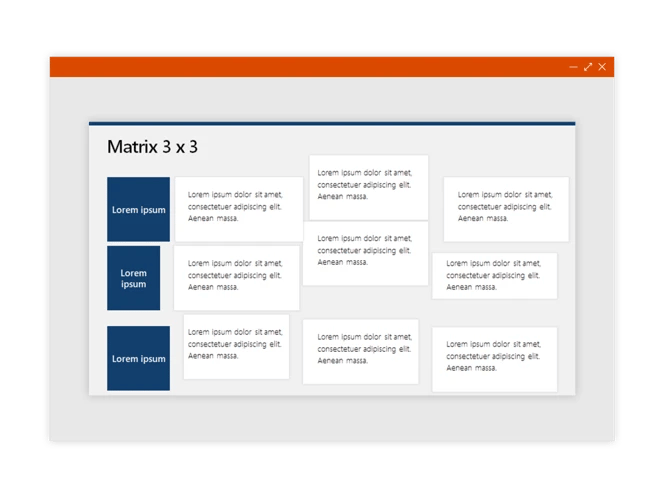 Why is that?
Good presentations open doors and sell ideas, products, and services. That's why a lot of time is invested in making them as convincing as possible.
But PowerPoint doesn't offer all the necessary features for this. Complex business slides and charts have to be created manually and formatted painstakingly.
Are your users frustrated and regularly working overtime?
Your employees will typically spend approximately 5 hours per week creating presentation slides.

40% of this time is spent on formatting issues alone. And even your best strategists don't have the graphic design chops for PowerPoint.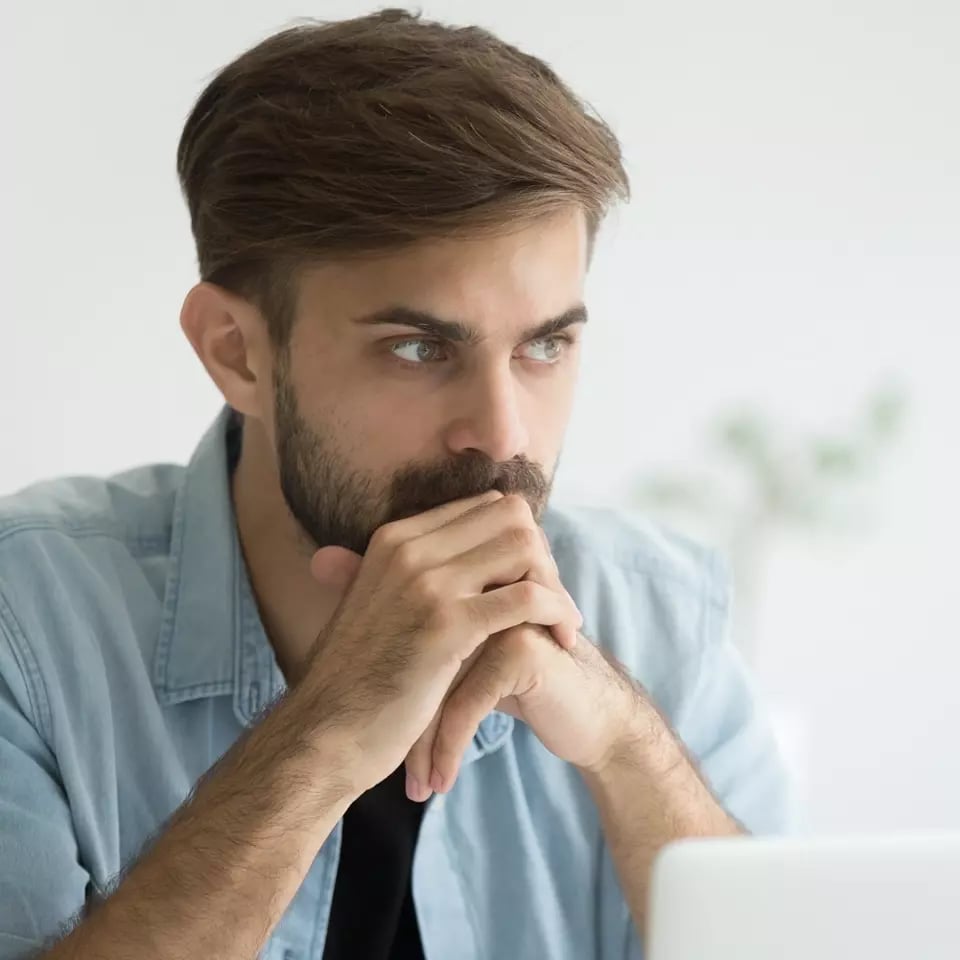 Are you unknowingly wasting your team's potential?
Instead of spending time making strong arguments, data-backed analyses, and compelling stories, they're forced to dig through a jungle of MS PowerPoint features.

Are they able to communicate the complete message with the tool they have?


Let your team create outstanding presentations
With empower® Content Creation, you eliminate all time wasters. Gain 100% concentration on content that convinces people.
Build presentations faster with 100+ templates
Give your team access to a huge library of templates with complete design elements.

Plus, with empower®'s Agenda Wizard, all you have to do is type the items you'd like to include and all the rest will be updated for you.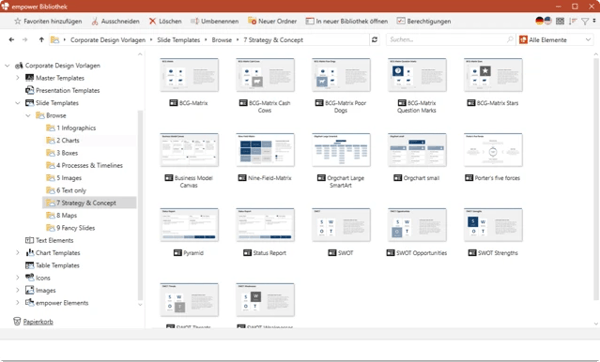 Create complex business charts faster
Input your data and generate any type of chart or graph instantly.

Go beyond PowerPoint's limited charting options. Pick a chart type (Gantt, Waterfall, etc.) and edit the pre-branded chart with just a few clicks.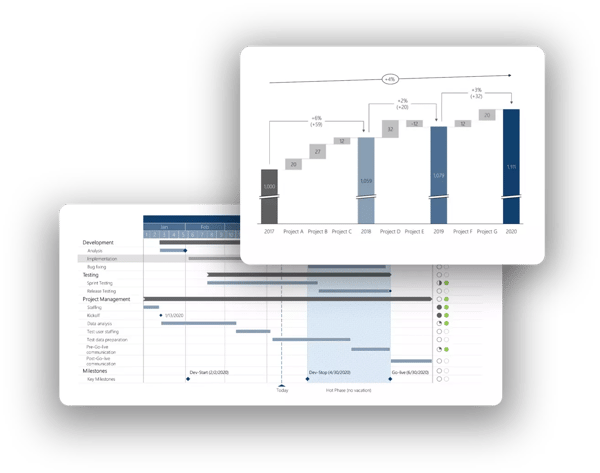 Automate recurring reports
Stop wasting time and risking errors by manually copying data from Excel to PowerPoint.

Edit your Excel files and your charts, tables, textboxes and even Gantt charts in PowerPoint slides will automatically be updated.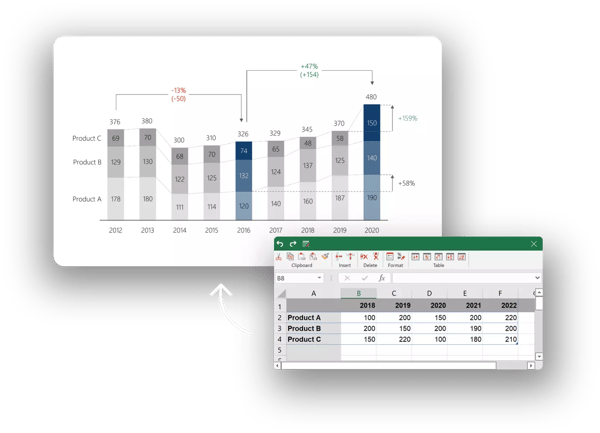 Eliminate tedious formatting tasks
Polish your presentations in seconds.

Arrange, position, resize, or align Powerpoint elements and correct any grammatical errors automatically with empower®'s Consistency Check.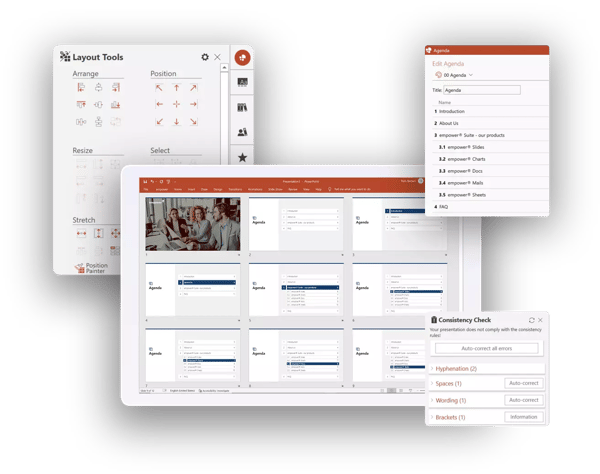 Real time translation
empower® integrates with DeepL, an AI-based translator that detects even the smallest nuances of your content and seamlessly translates it to another language.

Nothing crucial gets lost and you're sharing your story across the globe.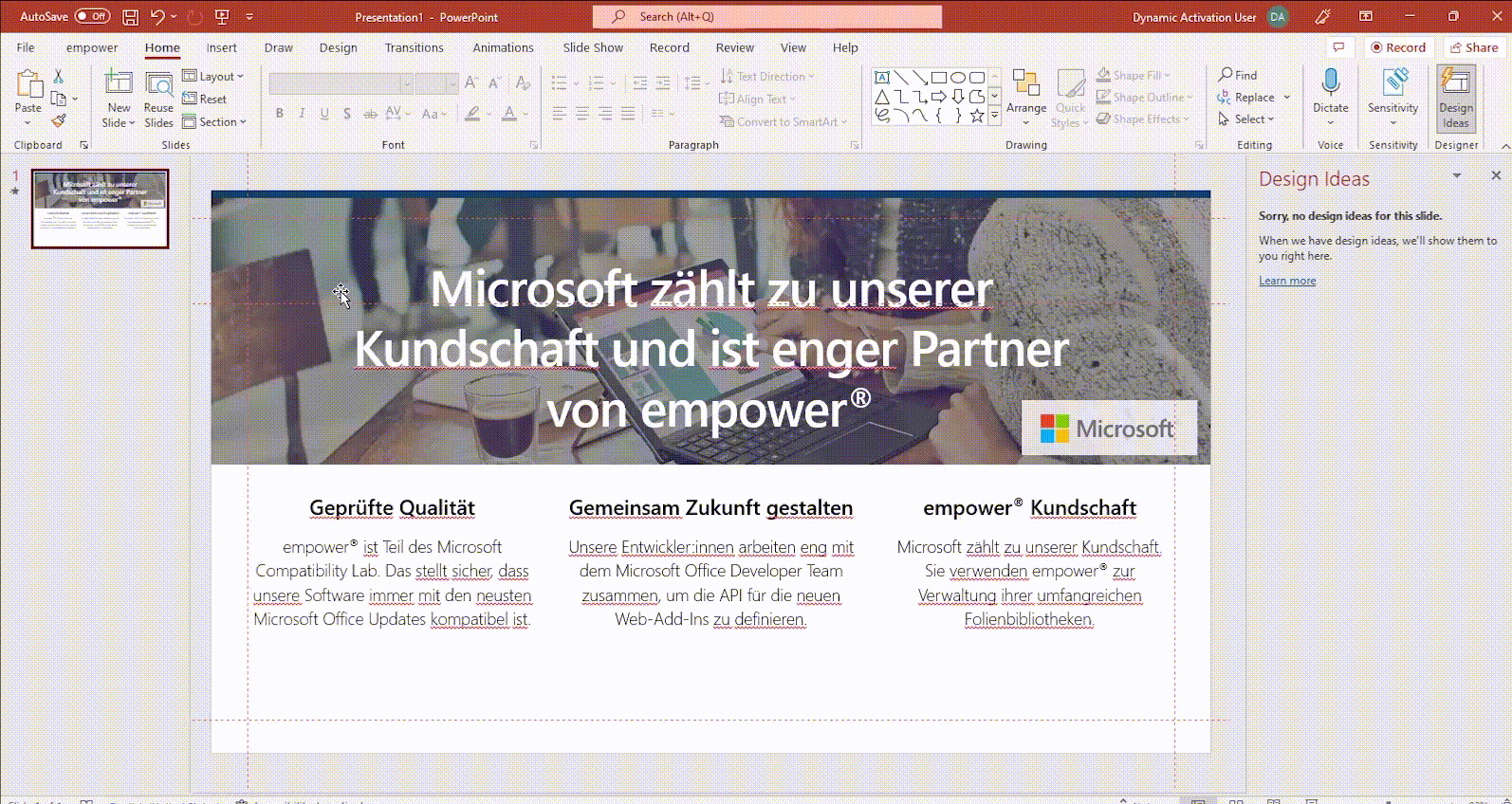 Did you know?
One suite to replace all your add-ins
With empower®, you can simplify your Microsoft 365 environment by eliminating all other add-ins. Your benefits: less complexity and lower costs, while providing your users with best-in-class functionality.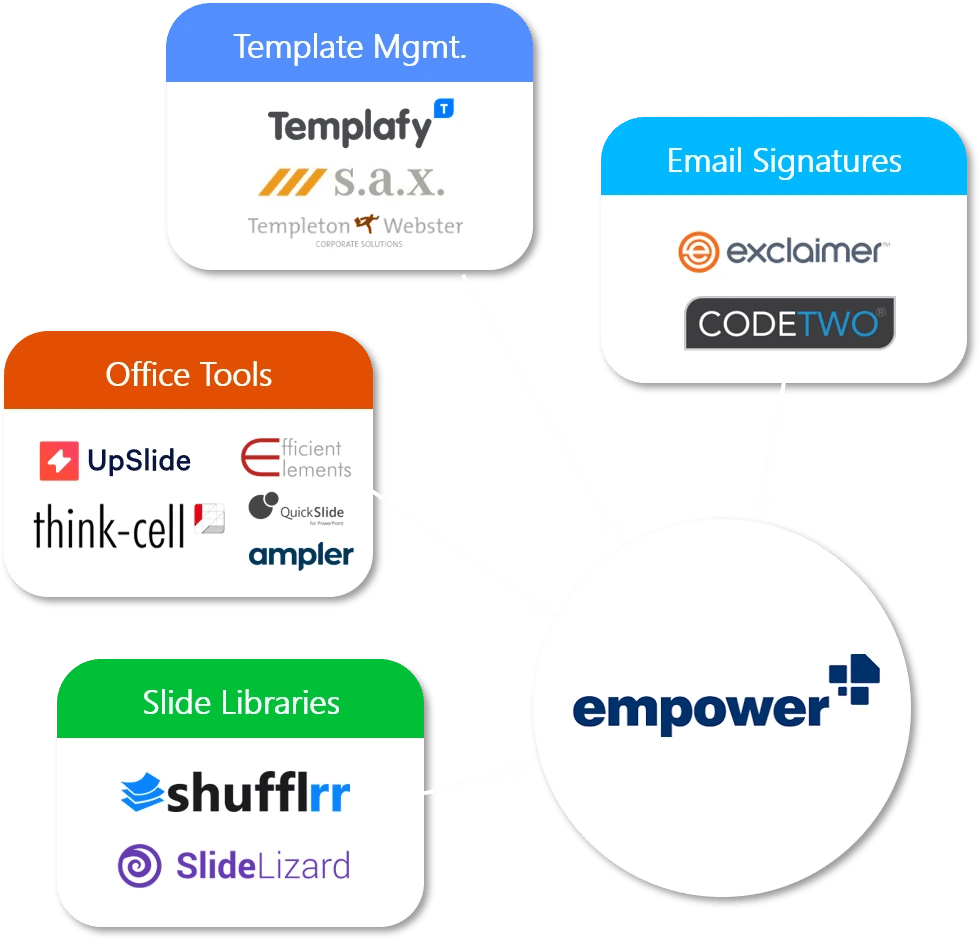 Business Case for empower®
empower® users save 22% of their time creating presentations on average. In combination with our Global Office study performed by Nielsen Research, companies with 500+ employees see a guaranteed 10x ROI or higher when introducing empower®.
Get started with empower®
empower® makes working with Microsoft Office easier, more efficient and brand compliant.
Why our customers love empower®
Preview: Content Creation explained in one minute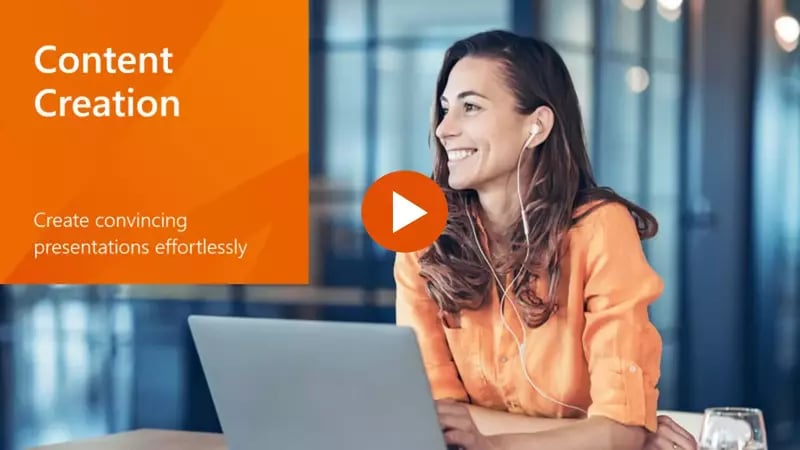 Want to learn more? Then watch the detailed online demo video now, with a detailed view at the main features of empower® Content Creation:
Stop wasting time - experience maximum efficiency when creating presentations.
Learn how to create complex business charts in a snap.
See how easily you can automate reports and eliminate formatting tasks.
Fill out the form and see Content Creation in action.