By building sustainable, strong brands, companies increase their recognition value, promote customer loyalty, and stand out from the competition. This is easier said than done. It's all about establishing and positioning the brand, brand management, and monitoring, advertising, social media branding, content marketing, and much more.
You can easily lose track of everything. How great that helpful tools support you in brand management and take a large part of the work off your hands.
Brand management system
A popular brand management system is Frontify. Frontify provides all-inclusive cloud-based brand management software. You can centralize every image, video, logo, icon, and other brand assets in one place. Also, you can create digital brand guidelines to organize and showcase your brand. Frontify streamlines collaboration across teams with project workflows and design templates. With 40+ integrations, Frontify empowers users to build a connected brand ecosystem with their favorite apps - like empower®.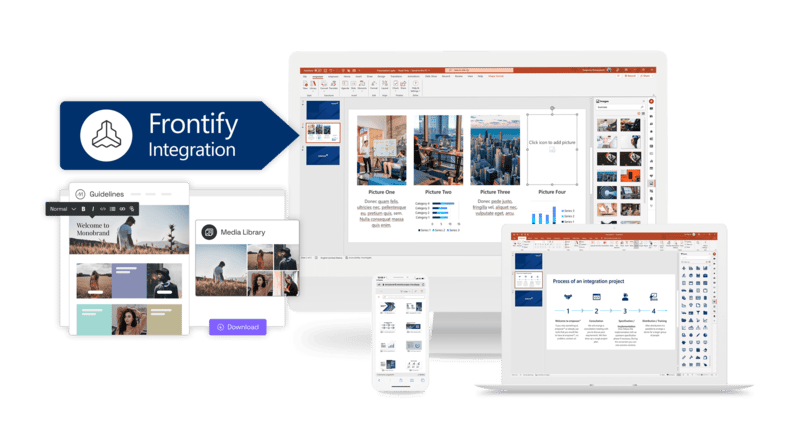 We talked to Miguel Funes, lead for technology alliances at Frontify, about why brand management is central to companies' identities, and how to enable people to communicate the soul of a brand confidently and successfully.
"Direct access to all brand elements at employees' fingertips across the Microsoft Office package is crucial. That gives them confidence that they're constantly producing on-brand and up-to-date content. And that will enhance their efficiency and trust as communicators."
Read the full interview and learn the secrets of successful brand management that engages and excites your employees.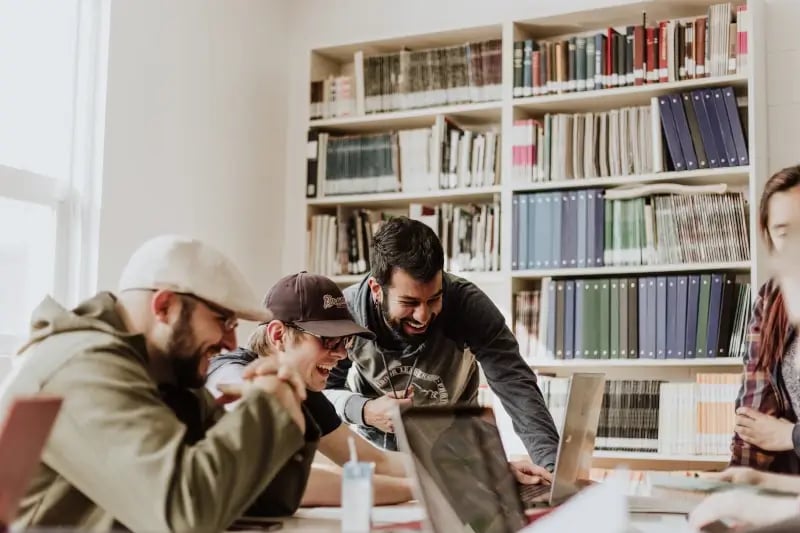 What are the biggest hurdles when it comes to company-wide brand consistency?
Lack of a single source of truth and centralization of assets. For bigger companies, handling a wide range of teams in different locations and markets, including external partners. Legacy and or offline systems make the user experience difficult for internal and external users. They also make editors' everyday jobs cumbersome when it comes to updating and finding the right material or when they need to give people access to the assets they need. Ownership often sits with a small group who act as brand police rather than brand enablers for the whole company.


Why is a brand management solution so important for companies?
Distinctiveness and brand consistency makes a brand more recognizable and helps people choose your brand over the competition. Managing a brand the right way makes it easy for all stakeholders to stay on-brand across all touchpoints. Conveying your brand promise will help ensure brand consistency and deliver ROI on everything you've invested in building your beloved brand.


How can you successfully introduce a brand management system and get employees excited about it?
By making living and breathing your brand as simple as possible. By including them in the onboarding process, you make them ambassadors and not only users of your brand. It's crucial to include key stakeholders early in the process of creating a single source of truth to ensure everyone's buy-in and that everyone can easily get their specific needs fulfilled.


When and for which companies does a brand management system make sense?
For any company, whether it's a startup taking its very first newborn brand steps but wanting to ensure they're ready to scale when needed. To the big global company that needs a simple and engaging single source of truth that enables people to be part of building their brand.


What should a brand management solution be able to accomplish and what should be considered when setting it up?
A brand management system allows you to create, organize, store, use, and share assets – while adhering to the brand identity. It includes brand assets - like brand guidelines, logos, and messages - and digital assets like marketing collateral, digital media, and other customer-facing projects.
Such a platform should serve the organization's employees working with the brand's most relevant assets, making sure they are compliant. Everyone must be able to find every branded content listed with the correct tags and metadata . Every employee should get what they want and how they want it across all the platform's touchpoints, such as a desktop or mobile app.
When setting up a brand management system you should focus on:
Build it for the right audiences (make sure to cover their needs: design, marketing, brand).

Take care of the look and feel (first impressions and details matter).

Make sure it serves the full picture (assets, guidelines, templates, project space).

Make it useful (set up integrations, classify assets to find them via search, use multichannel options, mobile, desktop).


What role does Microsoft Office content play in the brand experience?
Brand integrity and consistency are fundamental for organizations to scale their brand. For some companies, Microsoft Office sits at the heart of the brand's everyday touchpoints, with the content being shared between internal and external stakeholders. Communicating effectively and staying on-brand guarantees a clear and unified brand message. At Frontify, we see the quality of business content affecting adoption by employees and customers. And that feeds back into the company's growth and ability to reduce costs.
Establishing well-defined brand guidelines shared across the organization and fostering a clear positioning and brand identity are the foundation. Once you're there, the game is about consistency and making it easy for everyone to adhere to your brand's core guidelines and identity. That's the stage where Microsoft Office factors into spreading your brand voice successfully.


How can companies ensure that employees live and use the brand? Especially in Microsoft Office?
Companies with centralized governance that oversees brand identity will likely safeguard their brand personality and consistency.
Once organizations have established the foundation through comprehensive brand guidelines and sharing approved branded assets, employees expect to have them seamlessly integrated into their everyday tools, including Microsoft Office.
Direct access to all brand elements at employees' fingertips across the Microsoft Office package is crucial. That gives them confidence that they're constantly producing on-brand and up-to-date content. And that will enhance their efficiency and trust as communicators. As a result, companies will nurture committed brand ambassadors who grow the organization by sending a cohesive message that is true to the soul of the brand.
If you want to find out more about the integration of Frontify and empower®, we are happy to help. Contact us!


About Miguel Funes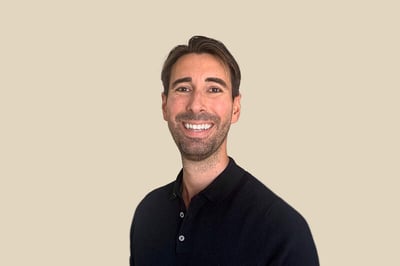 Miguel's work at Frontify includes the development of new partnerships with software solutions that expand its ecosystem. His goal is for Frontify to become the leading single source of truth for businesses' brand management and provide a seamless customer experience, engaging everyone in the company along that journey.
Before joining Frontify, Miguel's diverse career experience included more than six years at travel-tech powerhouses Expedia and Booking Holdings in leading roles of strategy and business development. Most recently he's grown and brought value in the areas of channel and technology partnerships within the Swiss SaaS industry at startups like Beekeeper and Locatee.


Subscribe to our newsletter