Replacing legacy software – time for a breath of fresh air
Legacy software: old workhorse applications that coast along in a business, unexamined. They never change or get replaced because "we've always used it!"
Did you know that legacy software can harm your business? Learn how to increase employee and customer efficiency and satisfaction by modernizing your company's digital environment.
What is legacy software?

Legacy software refers to software that a company has used for years and has become outdated. The term also describes software that no longer fulfills the purpose for which a company originally implemented it.
Companies must address the hidden costs and risks of legacy software as an essential step toward a modern workplace. Digital transformation of the modern workplace continually generates new possibilities for working efficiently and securely, both in-office and remotely.
What priorities do IT departments face when it comes to setting up the corporate digital environment?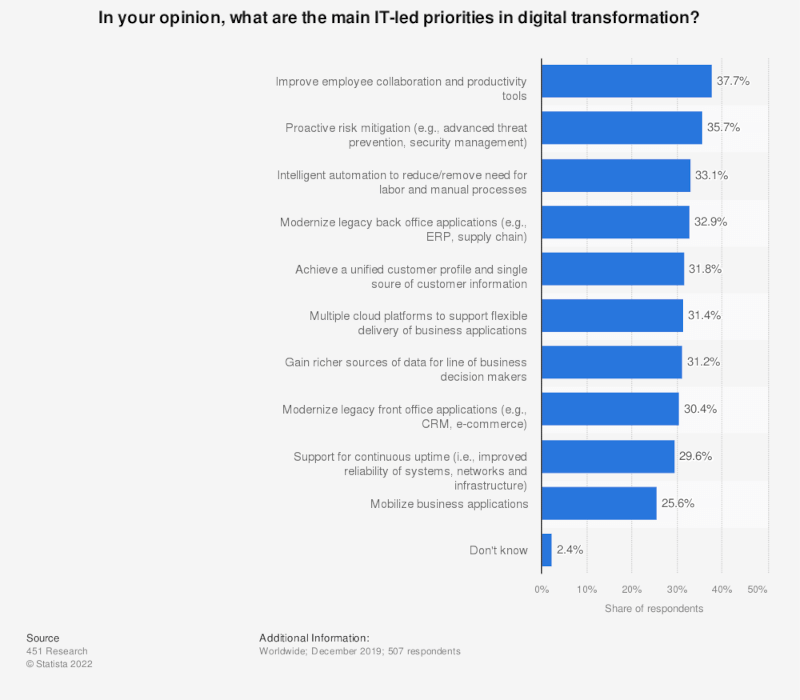 The answer according to Statista: for many IT managers, modernizing legacy software is a priority but not a very high one. Find out now why this should change.

Legacy software can harm your business

Legacy software not only presents a risk to your company's digital foundation, but also to its finances. Often, it is integrated into the basic framework of companies' digital environments. Thus, replacing it entails hassle and risk. Imagine having to remove a single puzzle piece in the middle of the puzzle and replace it with a new, matching piece.
Replacing legacy software incurs costs. But compare those renovation costs with legacy software's
maintenance costs,
opportunity costs,
customization costs,
upkeep and upgrade costs.
You will find that replacing your legacy software is more cost-effective than continuing to use it over the long term.
In some circumstances, legacy software impedes digital collaboration with your clients. If your employees receive files from clients that they cannot open in outdated programs, that affects your brand image in addition to the impact on collaboration. Clients will perceive your company as backward and incompetent.
Security is one of the most important issues in favor of updating legacy software. Outdated or obsolete software may not receive maintenance and security updates from the vendor. Legacy software may not comply with evolving legal requirements, such as GDPR standards.
Failure to replace legacy software could result in the company falling victim to a cyber-attack or data breach, resulting in heavy fines and financial losses. According to Userlane, data breaches cause an average of $3.92 million in damages for companies.
Quality loss is another important concern. Old systems result in a poor user experience. For your customers, this can result in a negative brand image. You cannot integrate modern tools into legacy software and so cannot create a more modern work environment. At worst, your employees are so dissatisfied with a legacy-laden digital environment that they leave the company.
Many legacy applications are inflexible. If your business grows rapidly, they may not be able to adapt, slowing your growth.
The advantages of replacing legacy software

Aside from the costs of legacy software, what are the long-term benefits of replacing it?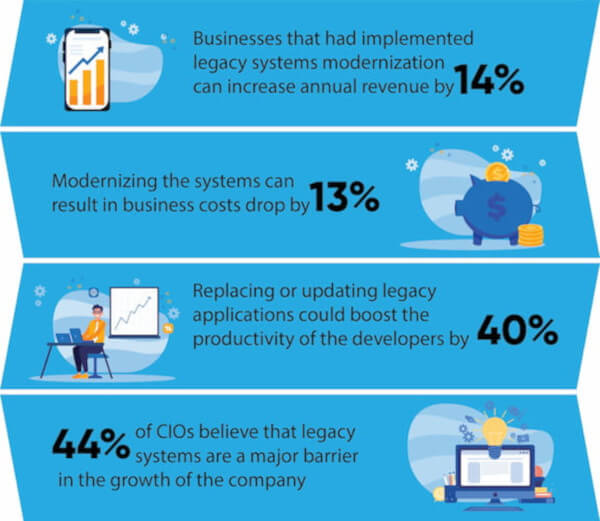 (Source: Data Science Central)
In short: In the long term, you can save money and increase revenue through greater efficiency. But that begs the question, how exactly does new software generate increased efficiency?
When researching new software, you have many options. The number of applications and their features seems almost infinite. So it is a good initial step to agree together with the future users of new software which functions it should have. This will allow you to select the most suitable software for your company from the large number on offer.
Together with your team and the vendor, you can explore how workflows can be optimized, or even automated. If you cannot find an application that covers all your needs, you may be able to extend it with add-ons or plugins.
Improved performance and streamlined workflows lead to greater satisfaction among your employees. Barriers to collaboration with clients disappear, enhancing your brand. You have more room for growth and software that supports it.
Modernizing your digital workplace can even give you another leg up: competitive edge. Especially for companies in an industry that relies heavily on legacy software, modernization can provide faster and more accurate quoting, communication, and delivery, giving you added advantages.
What are the options for replacing legacy software?
Many factors must be considered when replacing legacy software. Which functions must the new software perform? How reliable is the new software and vendor? Have you commissioned the development of custom, self-developed software or are you buying something that has already been developed? How will you transfer data from the old to the new system while maintaining operations?
Generally speaking, there are two paths for migrating from legacy software:
Temporary parallel operation of both new and old systems
By running both the new and the legacy software simultaneously for a short period of time, you can compare the two systems side-by-side. Your employees will can get used to the new system and associated work processes before final switchover.


Immediately switching from old to new
This method involves shutting down the old software and immediately deploying the new one. The process is completed quickly, but will result in your employees not being able to access any software during the transition. This time may be extended due to errors or bugs.


Replacing legacy software in 7 steps
Analyze the current situation: Where does the current software reach its limits?
Determine the desired situation: What functions should the new software perform?
Discuss involved parties: Who will be affected by the changeover? Who will form the project team for the restructuring?
Research: What types of software are available? Can they be extended? Does one meet all requirements?
Risk analysis: What can go wrong during the migration?
Implementation of the new software: Problems will arise during implementation; how will they be resolved?
Transition phase: Does the new software work as intended? Are there any issues? How can they be addressed?
Example: Microsoft Office - what replacing legacy software can achieve
Legacy software does not have to be a 30 year-old program. Even Microsoft Office 2013, although still widely used and supported by Microsoft, can experience issues opening files in Windows 10 and 11. In addition, the compatibility of macOS and Windows is only gradually developed.
Updating Microsoft Office 2013 is therefore an obvious choice. It is important to decide whether to invest in another desktop-only version like Microsoft Office 2019, or rather Office 365 which enables working in the office or remotely on a variety of devices. It all comes down to the needs of your business. Regardless of which you choose, all Office packages have one advantage: productivity-enhancing add-ins such as the empower® Suite integrate seamlessly with modern MS Office versions.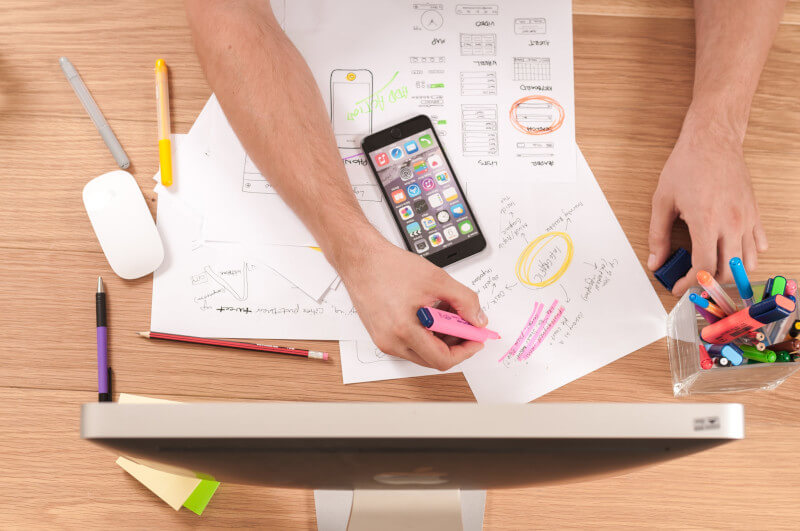 Microsoft Office can be used more efficiently thanks to the empower® Suite and its numerous productivity tools. empower® gives your employees the opportunity to focus on what is important instead of paying attention to time-wasters like formatting. With the empower® Library, you have all your presentations, documents, and templates in one place and can update them centrally. This guarantees company-wide consistency and adherence to corporate identity.
Updating your Office software enables you to integrate additional tools to optimize and customize workflows. Your employees can work even more efficiently and spend less time paying attention to the implementation of correct branding or searching for appropriate content.
empower® Suite – the solution for a modern office
Our comprehensive empower® Suite makes your workplace more efficient, and it also helps you create a future-proofed workspace. Our empower® add-ins easily integrate with existing digital environments and merge with your DAM and PIM systems. All your digital assets are clearly managed in one place and people do not need to switch between different systems to insert images and icons, for example.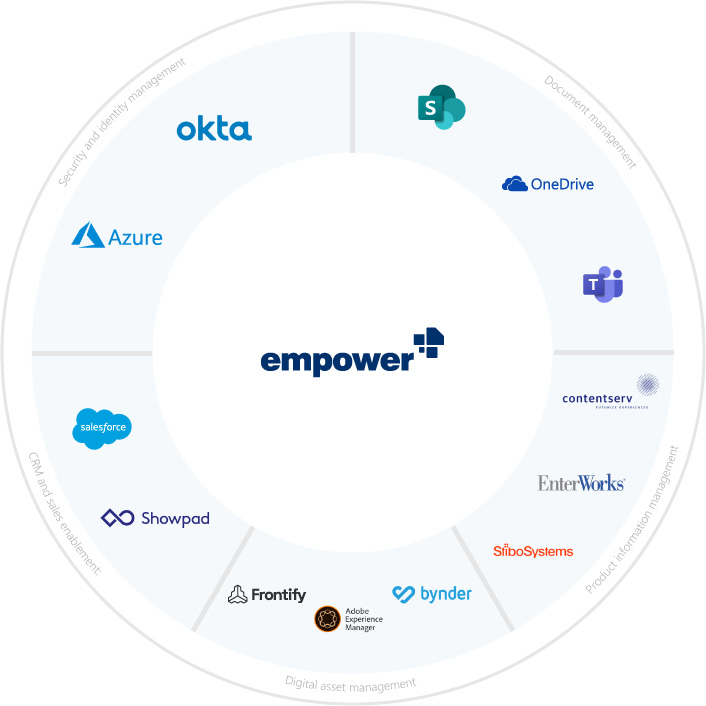 In addition, the central empower® Library improves collaboration among your employees and promotes knowledge sharing. All information and documents are in one place and can be edited, shared, and saved by employees depending on their access permissions.
We are an official Microsoft partner company. One of the advantages of this is that our suite is compatible with all Microsoft updates.
Have we sparked your interest? Please contact us! Our experts are available to answer any questions and assist you in customizing a digital workplace solution for your company.


Subscribe to our newsletter