Impress with stunning PowerPoint presentations
empower® for PowerPoint
Over 3 million people already trust empower® to create professional Office documents.
empower® makes PowerPoint easier, more efficient and brand compliant.
Create elegant, professional presentations quickly and easily with the empower® add-in for PowerPoint. empower® provides everything you need from a PowerPoint slide management solution in a convenient, flexible library. Templates, slides, images, charts, and more are instantly searchable. All assets up-to-date and ready-to-use. Available offline, right where you need it in the PowerPoint ribbon.

PowerPoint slide management made easy – host our software on-premises or in the cloud and use it with Office 365, Office for Windows, Office for Mac, PowerPoint Online, and Microsoft Teams.
Get started with empower®
empower® makes working with Microsoft Office easier, more efficient and brand compliant.
easy
---
Your single source of truth for all slides, company-wide
Want to eliminate time wasted searching for slides, images, or charts to re-purpose? Need a way for everyone to find up-to-date brand compliant content? Meet the empower® Library: a scalable, enterprise-class slide management solution. The empower® Library delivers a single source of truth for everything PowerPoint-related. And powerful formatting automations right in the PowerPoint ribbon make it easy for anyone to format external content to your brand guidelines.
Your PowerPoint Asset Library
Centrally manage all your organization's presentation assets within PowerPoint itself using the empower® Add-in. Instantly distribute up-to-date content across your entire organization. Control access via Active Directory. Available to everyone within PowerPoint for Windows, Mac, and Online – and even via Microsoft Teams and SharePoint integrations.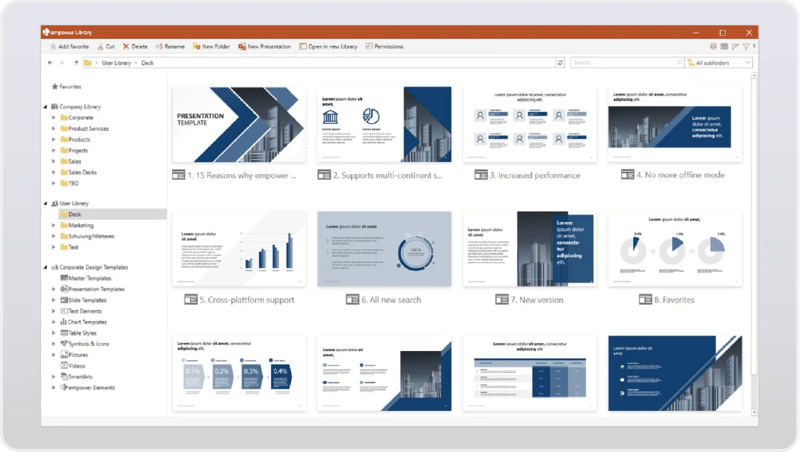 Never Again Use Outdated Slides
empower® for PowerPoint flexibly distributes ready-to-use presentations, templates, slides and more. People automatically receive update notifications when they open outdated content. Inserting assets from the Library is as simple as drag-and-drop.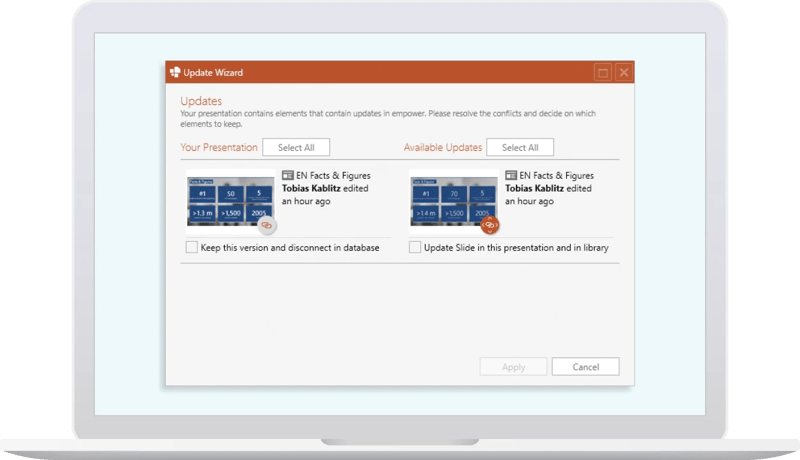 Manage Multiple Languages
Multinational companies can provide slides and other content in multiple languages. empower® for PowerPoint enables people to switch easily between language versions.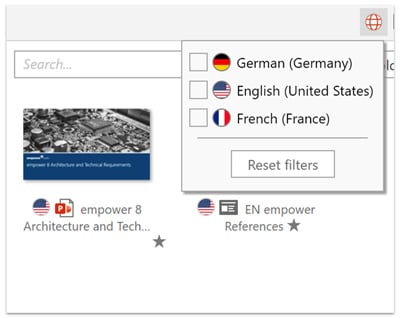 Asset library
The empower® Library integrates seamlessly with PowerPoint. It provides direct access to all PowerPoint assets: slides, slide sets, presentations, master templates, images, icons, charts, tables, text elements, SmartArt graphics, and videos. With just a few clicks, users can add content to and from the Library directly within PowerPoint.
Google-like search
empower® includes a Google-like Search that covers all content including notes, metadata, and linked Excel tables and charts. A machine learning algorithm ensures that the best search results appear up top, based on an analysis of the prominence, frequency, and position of the search term as well as the last modified date of the slide.
Slide Updates
empower® notifies users when they open a Library asset that has been updated since it was last used. It automatically detects if any changes have been made in a presentation that need updating. empower® allows you to update slides in multiple presentations in a single operation.
Rights Management
empower® connects to Active Directory, Azure AD, and OKTA. Within empower®, you can assign rights to folders for individual users or entire groups. Four roles are available on the folder level: Reader, Author, Editor, and Administrator. An additional role, Corporate Design Admin, can manage all central settings such as corporate design rules.
Offline Availability
empower® synchronizes either the entire Library or selected folders from the central database to everyone's computer. People can quickly create and edit presentations and documents wherever they are – even when they're on a plane or working somewhere with limited or no online connection. empower® always runs fast and smooth thanks to its cached offline functionality.
Slide Translations
empower® allows you to manage slides and presentations in multiple languages. With the Slide Linking feature, whenever you update a slide in one language, all translated versions of that slide are also marked as changed. A localization agency or colleagues can then easily see which slides require translation updates.
Slide Protection
You can protect individual slides and presentations so that they can't be edited by unauthorized users. Approved, official content stays consistent; it can be used, but not modified, except by authorized users.
Did you know?
One suite to replace all your add-ins
With empower®, you can simplify your Microsoft 365 environment by eliminating all other add-ins. Your benefits: less complexity and lower costs, while providing your users with best-in-class functionality.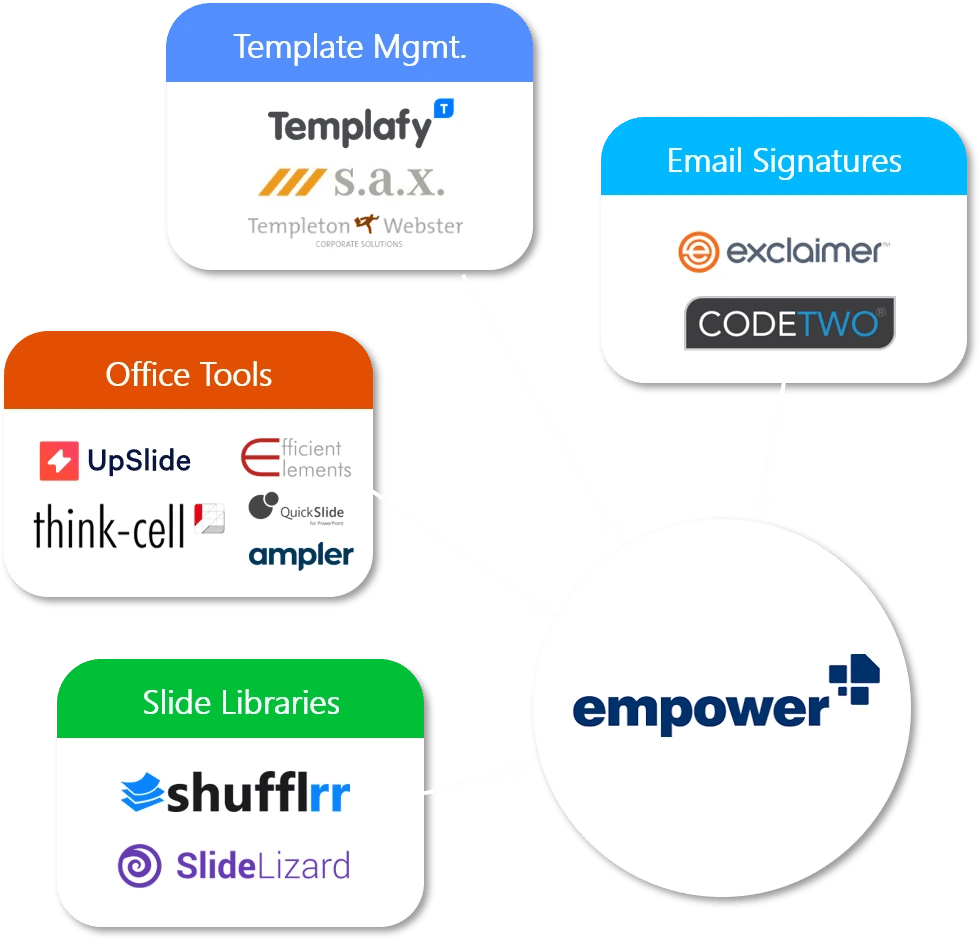 efficient
---
Create presentations 30 % faster
Time is precious, so why spend it on formatting instead of focusing on better content? Our study has shown that PowerPoint users spend 37 % of their time on formatting slides. With the empower® PowerPoint add-in, you create presentations up to 30% faster.

empower® provides ready-to-use templates, slides, charts, and more to quickly create the framework for amazing content. Easily add pre-formatted slides or images that correctly conform to your house style; change from 4:3 to 16:9 at the click of a button; format charts with a single mouse click. Everyone can focus on content creation, confident that their documents will look good and send a strong on-brand message.
Agenda
Create and amend a PowerPoint table of contents with the empower® Agenda Wizard. Watch this video to see this and other time-saving empower® features in action.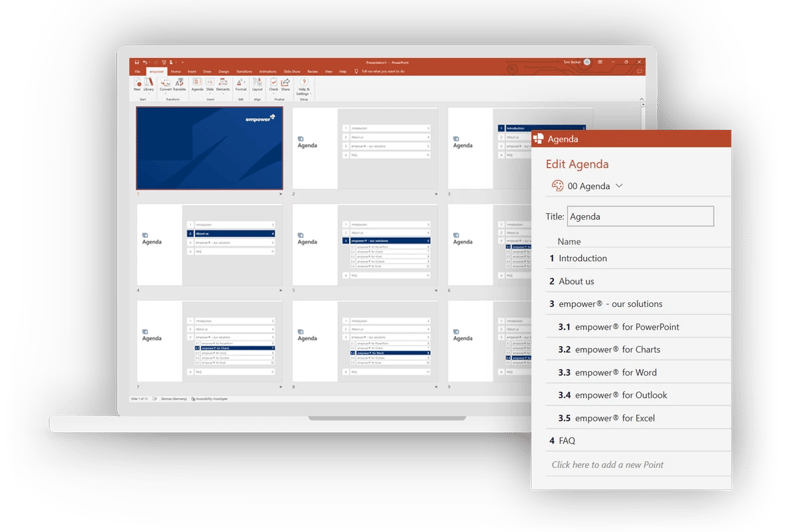 Layout Tools
Place elements and content precisely on slides with just a few clicks. empower® supports you with more than 50 practical Layout Tools that automate tedious positioning and layout work.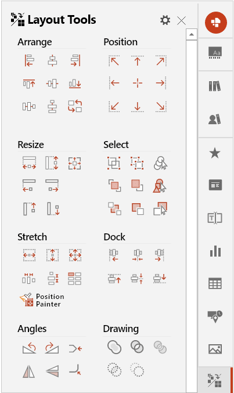 Smart Objects
Add Harvey Balls, Traffic Lights, Checkboxes, and Stamps to your slides to visualize the status of a project. Change an item's status with a single click and the Smart Object will automatically adapt to your changes.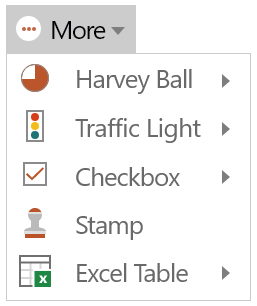 Agenda Wizard
Use the Agenda Wizard to build an attractive agenda slide. You can choose from several agenda layouts that include timetables and speaker names. Other options include Automatic Slide Numbers, Auto-fit on Overflow, Chapter References on each slide, and Navigation Links.
Apply Format
You can apply a style to any shape, text box, chart, or table. Styles save time and ensure format consistency so your presentations match your brand perfectly.
Smart Objects
Add Harvey Balls, Traffic Lights, Checkboxes, and Stamps to your slides. Change an item's status with a single click.
Send
E-mail selected slides or an entire presentation as either a PowerPoint file or a PDF. You can even lock your slides before sending them.
Review
Check the spelling of all text in your presentation, delete personal notes, and remove animations if desired.
Layout Tools
The empower® PowerPoint add-in offers more than 50 Layout Tools that go beyond what's built into Microsoft PowerPoint. Our cutting-edge Tools enable you to arrange, position, resize, and stretch slide elements.
DeepL
With empower® you can have your slides or entire presentations translated automatically. empower® can integrate your DeepL package directly into PowerPoint. Simply click on the translation icon in PowerPoint, select the desired target language and all selected slides will be translated automatically. No more copying and pasting. All formatting, such as images, fonts, and colors, is transferred almost one-to-one. Translating PowerPoint presentations has never been so fast and easy!

In addition to direct integration into PowerPoint, the main advantages of DeepL integration are cost control and maximum data security. Your texts are subject to the world's highest data protection standards with the DeepL API Pro version.
brand compliant
---
Total brand compliance
Your brand is an important asset, but our research shows that only 30 % of all MS Office documents comply with corporate design guidelines. Your brand and corporate design compliance is built-in to the empower® Ribbon. Users don't have to guess about which fonts, colors, or layouts to use. In addition, empower® can transform old presentations and documents into the latest corporate design with just a few clicks.
Template & Asset Libraries
Choose from hundreds of predesigned and corporate-approved MS Office templates. The empower® Library can house easily-accessed branded images, charts, clauses, and boilerplates (world map, organigram, value chain, etc.).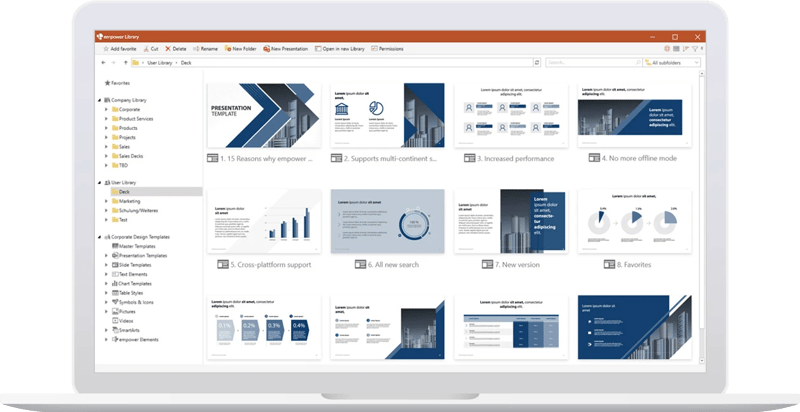 Design Check
The empower® Design Check examines the template, fonts, colors, titles, numberings, margins and logo spacing to make sure everything conforms to your corporate design. In addition, Design Check auto-corrects any inconsistencies it finds in templates or production documents.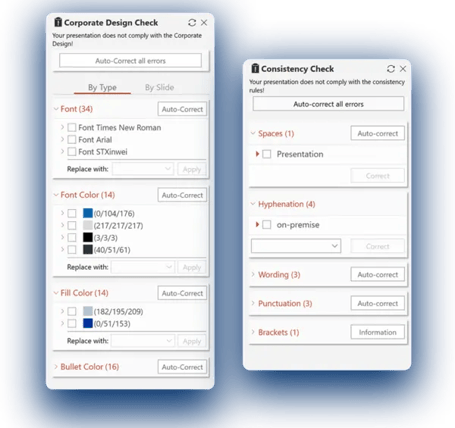 Convert from Old to New
Easily adapt Word documents and PowerPoint presentations to a new template. Reformat external content to be on-brand with just a couple of clicks.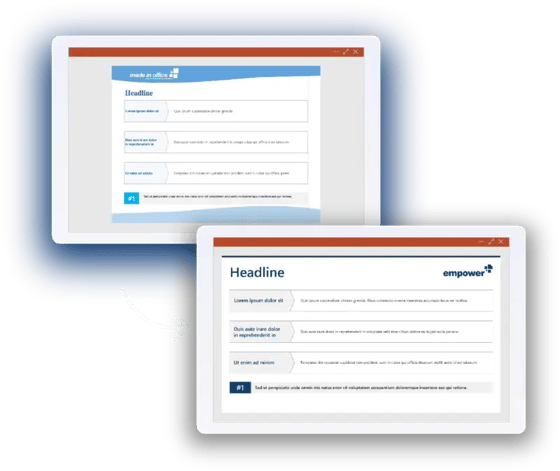 Design Check
The empower® Design Check tool analyzes a presentation against your corporate design guidelines embedded in empower®. Design Check examines the template, colors, fonts, font sizes, bullet styles, logo protection area, and much more. You can auto-correct all issues with one-click, or each of them manually. In addition, empower® supports multi-brand configurations so you can add as many brand guidelines as needed.
Convert from Old to New
With the empower® PowerPoint add-in, you can easily upgrade any presentation to your current house style. Whether the presentation is in 4:3 or 16:9 aspect ratio, empower® applies all layouts intelligently and removes unwanted old layouts from the slide master.
Font and Color Picker
The empower® Custom Font and Color Pickers display only corporate design-compliant options, so people only use approved fonts and colors. Text, object fill, and line colors can be configured. Multiple brand designs are supported.
Master & Presentation Settings
With empower® for PowerPoint, you can add watermarks, draft stamps, and footnotes as needed. The Logo Switcher allows you to pick from a list of approved logos. And the Anonymous Mode temporarily hides all logos in the presentation, allowing you to work on confidential projects when you're in a coffee shop or sitting next to someone on a plane.
Template Libraries
empower® provides extensive Libraries with all templates, slide masters, images, icons, text elements, chart and table assets. It's easy to build brand compliant slide decks from pre-approved building blocks.
DAM Integration
empower® integrates with any digital asset management (DAM) system that provides an API. Our Unsplash integration is available out-of-the-box if desired.
Preview: Content Creation explained in one minute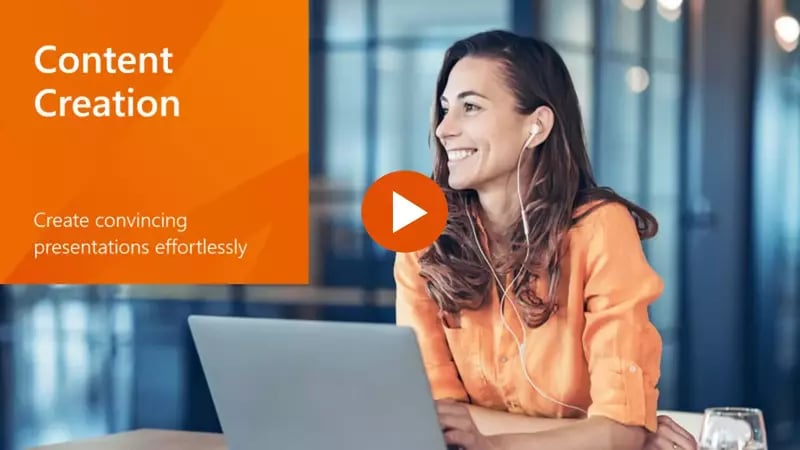 Want to learn more? Then watch the detailed online demo video now, with a detailed view at the main features of empower® Content Creation:
Stop wasting time - experience maximum efficiency when creating presentations.
Learn how to create complex business charts in a snap.
See how easily you can automate reports and eliminate formatting tasks.
Fill out the form and see Content Creation in action.
IT requirements
---
Future-proof Enterprise Class Software
empower® is designed for organizations of all sizes: from small sophisticated firms to global enterprises with more than 100,000 users. empower® uses state-of-the-art technology and a modern architecture to ensure high performance, stability, and scalability. With innovative apps for PowerPoint Online and Microsoft Teams, empower® is integrated into the next generation of Office 365.
Best-in-class Performance
empower® delivers the best possible user experience. Our software's unique architecture ensures that PowerPoint never slows down or hangs. And opening large presentations is faster than ever.
Optimized for Microsoft 365
empower® is optimized for Microsoft 365. Thanks to our close relationship with Microsoft, we can ensure that empower® is compatible with the latest Office releases at any given time.
Cloud or On-Premises
The empower® PowerPoint add-in can be hosted within your company's onsite IT infrastructure, your company's private cloud, or alternatively in our managed Microsoft Azure cloud. Enjoy quarterly updates and optional "hands-on" setup for easy deployment.
PowerPoint Online Web-Add-in
The empower® Library is available as a web plug-in for PowerPoint Online. You can easily open presentations, individual slides, images, or icons in a new browser tab and then copy them over to your active presentation.
Enterprise-Class Integrations
empower® integrates with all your existing applications like DAM, PIM, Teams and SharePoint. In addition, custom extensions can be developed according to your wishes.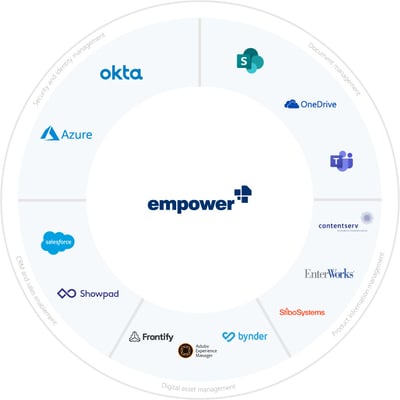 OS
Works with Windows 8/10 and Microsoft 365, Citrix and terminal servers as well as with macOS (current/prev. version).
MS Office
Works with all Office versions from Office 2010/2013/2016/2019 including all Office 365 versions.
MS Teams
The empower® App for Microsoft Teams allows people to chat with the empower® Bot to retrieve content from the entire Slide Library. A user can open the slide or presentation within Microsoft Teams.
Sharepoint
You can connect empower® to SharePoint in either direction: synchronize data from SharePoint to the empower® Library or make empower® content available to SharePoint. Our empower® Integrations team supports custom integrations.
Infrastructure
Your data is yours. empower® can be hosted within your company's onsite IT infrastructure, your company's private cloud, or alternatively in our managed Microsoft Azure cloud.
Architecture
empower® is built on a state-of-the-art service-oriented architecture. A local client service connects via HTTPS with a host service that manages the data in SQL server. The services can be deployed in multiple regions to ensure best performance no matter where your users are located.
Integrations
empower® can integrate with any third-party system. Share images and videos stored from your DAM/MAM in empower®, automatically create slides based on your PIM system, or connect to SalesForce to save all client communication in one place. Contact us to speak with our empower® Integrations team about your specific requirements.
Do you want to make Office 365 more efficient and faster? Experience our empower® solutions for Brand Control, Content Creation, Content Enablement and Document Automation.
Download our brochure
All information about empower® at a glance!