Email campaign management - the top 5 tools
7 min read
August 23, 2022
Whether at home or at work, emails are an integral part of many people's lives. Organizations use them to provide customer service, promote their brands and products, and share news. Learn more about the pros and cons of email marketing and the top 5 tools for email campaign management.
How relevant is email marketing?

On average, people working on computers deal with just under 130 emails per day. They receive around 100, 80 of which are not spam, and send 30. Despite this volume, emails are considered one of the most effective marketing tools.
But due to the ever-increasing volume of emails that people deal with every day, marketing emails are receiving less and less attention . For those working in marketing, this presents new challenges for optimizing mailing campaigns:
Did the subject line grab the recipients' attention?
Did the content of the email appeal to the recipients?
Did the recipients feel addressed by the email?
Did the email come at a good time?
Do I keep my mailing lists up-to-date?
Is email marketing still worthwhile with all the effort and tools needed for evaluations?
Why email marketing is worth the trouble
Email campaigns achieve approximately 40% more conversions than social media marketing. Even though this alone is a solid argument for email marketing, there are even better points to be made.
According to Content Writing Jobs, the ROI on email campaigns is around 4,200%. For every $1 a company puts into this form of marketing, they earn an average of $42. By comparison, Google Ads bring profits around $2 for every dollar spent, every dollar invested in mobile marketing brings around $10 profit on average, and for SEO, the ROI is $22.24.
Email campaigns vs. email signature marketing
In email marketing, an email is sent with the intention of a particular conversion, whereas in email signature marketing, the marketing element is just one part of an email. Both have their advantages and disadvantages.
The ROI speaks for mailing campaigns as a marketing measure. However, there is a risk of ending up in the recipients' spam folder. Of course, there are many ways to counteract this, such as personalizing messages, avoiding so-called spam trigger words and adding an "unsubscribe" link. However, all efforts yield little results if recipients choose to push your emails to the spam folder or mark them as spam.
Email signatures are often underrated in marketing. They offer a low-cost branding opportunity. Instead of overtly marketing emails just add a small branding element to everyday emails. Our article outlines how you can create a professional email signature in outlook. Images or banners under the signature can inform your communication partners about offers, events, or anything else. Email signature marketing does not necessarily incur additional costs and if you manage them centrally, there is no additional effort to achieve impressions or conversions.
As long as you have a tool through which email signatures can be centrally managed, banners can be implemented among signatures without extra costs for your company. To ensure that all your employees include the relevant data protection and legal information in their email signatures, we recommend the use of an email signature management tool in any case.


Types of email campaigns
Newsletter campaigns
These long-term marketing efforts have a similar content structure sending schedule every month. Newsletters are well suited to target campaigns for customers, sponsors, prospective customers, and partners.
Transactional mailing
Here, emails are sent after customers or people interested in the company have initiated contact. This type of message can be sent automatically. They are not promotional emails, which requires double opt-in by the customers.


Trigger mails
An event or action triggers these messages. There is a distinction between:
Time-related triggers: a customer's birthday or holidays like Christmas or New Year.
Action-related triggers: the customer clicking on a link or a download.
Autoresponder campaigns
An automated sequence of emails sent to recipients at specified time intervals, starts with a trigger. The autoresponse times are always individual.
Example:
Double opt-in
↓
Welcome email
↓
Reference to older content
↓
Current newsletter
↓
...
Nurturing campaigns
Again, a trigger starts a campaign to nurture a relationship towards a specific goal or conversion. As soon as defined scoring goals are reached, individual recipients are removed from the recipient list and the campaign continues for the remaining recipients.
Top 5 email campaign management tools
Most email campaign management tools have similar features. Choosing among the multitude of tools can be a challenge. Key criteria include whether the tools fit well into your digital environment and user friendliness. At trade shows and MarTech events, you can learn about trends in email marketing management and keep an eye on new tools and software.
1. Mailchimp

Mailchimp is software as a service. The functions include email campaign management, target group management, creative tools, and analysis functions. Target group management assists with CRM, registration forms, behavioral tagging, and segmentation. Mailchimp's analysis functions are suitable for A/B tests and surveys, and provide suggestions for content improvement. The creative tools help with the structure of the emails and support with subject lines and templates for campaigns.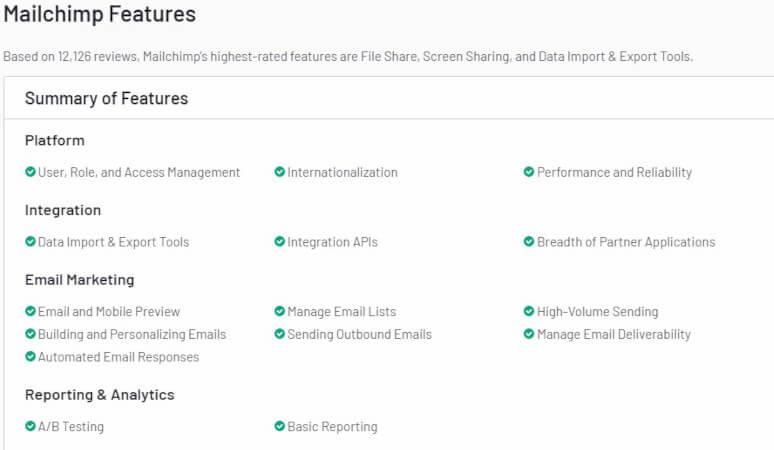 Source: G2
Users mostly use Mailchimp for automated email campaigns such as newsletters, automation of triggered emails in the e-commerce sector, and contact management. While the software impresses with its user-friendliness, users express concerns about the hosting in America and uncertain GDPR compliance.

2. Sendinblue

Newsletter2Go became Sendinblue after an acquisition. The software positions itself as a German Mailchimp alternative with GDPR compliance. In addition to email campaign management, the tool also includes SMS and chat functions. Social media ads can be placed and managed with the tool.



Source: Sendinblue
Users emphasize the available layouts as a particularly useful aspect of the tool. It is primarily applied by users for newsletter campaigns, their analysis, as well as customer data and lead management. The European server location is a big plus for many users, but the tool cannot quite keep up with Mailchimp in terms of price.

3. HubSpot Marketing Hub

HubSpot Marketing Hub is a marketing automation all-rounder. In addition to managing email campaigns, the platform also offers social media management, blog management, website management, SEO support, LiveChats, and ad management and tracking.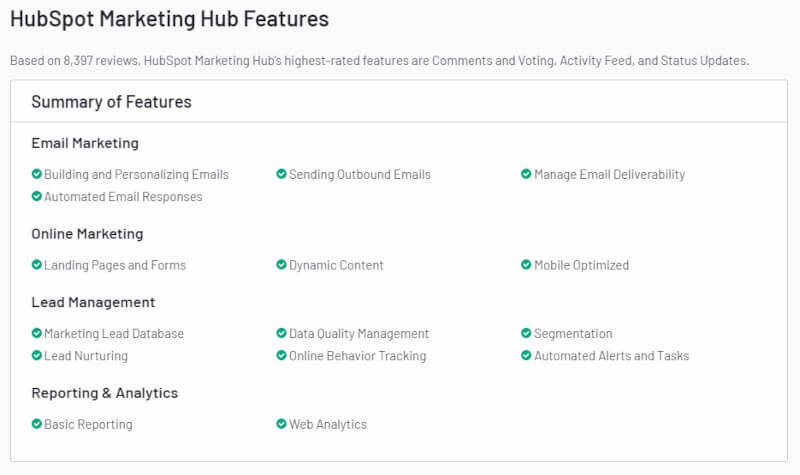 Source: G2
Users are pleased with the smooth integration of both marketing and sales functions and the extensive automation options and resulting increase in efficiency. They express less enthusiasm that this company is based in America and consequent unclear compliance with GDPR standards. Also, due to its large number of functions, it cannot keep up with specialized email tools in all areas.
4. CleverReach

CleverReach describes itself as an intuitive newsletter tool and puts special emphasis on GDPR compliance. There are free templates and a drag and drop editor to simplify creating newsletters. Unlike the tools mentioned so far, CleverReach has an extensive feature set for email campaigns, but no other areas of expertise besides email.

Source: CleverReach
Users mainly make use of the extensive email newsletter functions. Organization and management of contacts is clear and user-friendly. However, HTML knowledge is an advantage, if not required, for personalizing emails. As a result, it is difficult to incorporate proper corporate design.
5. rapidmail


rapidmail is also designed exclusively for mailing campaigns. Campaigns can be optimized with features like scheduled sending and spam scoring. Trigger emails can be set up and website integration works very well. rapidmail's unique pricing is per-mailing as opposed to monthly subscriptions of other tools.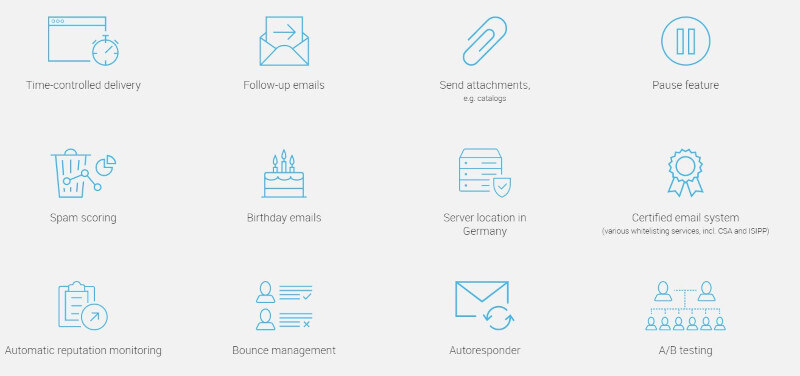 Source: rapidmail
Users utilize rapidmail for their newsletters as well as for contact data and mailing list management. The process of registration, reception, and unsubscribing from newsletters is seamless. GDPR conformity is given.
As a minus point, only meager options for designing newsletters are available. While rapidmail offers numerous newsletter templates, optimizations beyond these templates appear to be rather difficult.
What about email signature marketing?
If you would like to have more information about email signature marketing, have a look at our email marketing guide. Are you looking for a tool that helps you ensure that all email signatures across the company are consistent and contain the relevant (data protection) legal information? Then empower® Mails is the solution for your company!
With the Outlook add-in empower® Mails you can centrally manage and update your employees' email signatures. You can add banners to the signatures and inform recipients about new products or events of your company. And the entire empower® Suite ensures that all your office documents are consistent and brand compliant.
Contact us! Our experts will be happy to work with you to find the perfect solution for your company.
Subscribe to our newsletter