Emails are an essential means of communication in business. They've also long served as a marketing tool. Companies often promise discounts for signing up for newsletters - and for good reason. Emails are one of the most cost-effective and ROI-boosting marketing measures.
The email signature is an important marketing vector in addition to email content. How do signatures contribute to email marketing and what information should be included?
In this guide, we'll tell you how to use emails to optimize your branding and market your company efficiently.
Marketing via email?
Marketing via email brings many advantages. While social media click-through rates usually stagnate around 1.3%, emails achieve greater success. Statista recorded an email click-through rate of 5.36% in Germany in 2021.
Revenue generated by email marketing increases annually. In 2023, it's expected to grow from $9.62 billion to $10.89 billion. By 2027, revenues are projected to reach $17.9 billion.
One reason for the success of email as a marketing tactic is the ability to segment subscribers as well as personalize messages. This includes addressing people by name, as well as, for example, discounts sent by email on a person's birthday.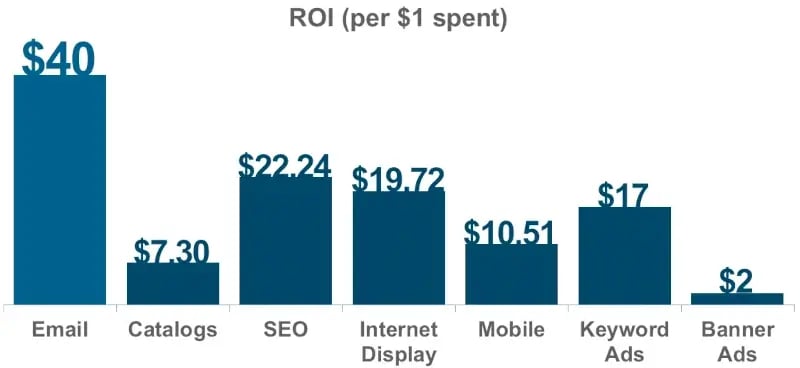 (source: Business2community)
Return on investment is very high with marketing via email, averaging 4,000%.
And the best thing about email marketing? Most tools give marketers detailed analytics. They can see from the data what time of day emails are most likely to be opened, what kinds of devices recipients read the emails on, and what links they click from there.
Email marketing benefits
We've already discussed ROI and increased click-through rate. What other benefits arise from this form of marketing?
No dependence on third-party providers: in email marketing, you control all aspects of the message and don't depend on advertising platforms like Google or Facebook.
Manageable costs: especially when you consider ROI, email marketing is one of the more cost-effective advertising measures.
Automation: today, MarTech tools not only automate email marketing campaigns, but also enable centrally managed company-wide email signatures.
Measurability: you can track the success of email signature and email marketing campaigns in real time and evaluate various success metrics.
Accessibility: just about everyone uses email. So, you don't need to tailor the campaign to the social media sites your target audience is on, just segment your contact list.
Importance of a professional email signature
A professional email signature is essential to make a good impression on recipients. So it's surprising that around 30% of marketers haven't defined any brand guidelines.
Emails with missing or inconsistent email signatures are easily dismissed as phishing. If every employee uses a different signature, this leads to uncertainty among recipients, and you lose an important means of promoting brand recognition among your correspondence partners.
Pay attention to the following aspects and adapt them to the brand style guide and corporate design throughout the company.
Uniform email addresses with the company name in the domain part (e.g., firstname.surname@companyname.com)
Font and font size
Accent colors
Logo and link to website
Image elements (especially relevant for email signature marketing)
Emails with professional brand-compliant signatures lead to about 22% more website clicks, 10% growth in social media channel reach, 32% more responses, and 15% more leads, according to wisestamp.
Creating email signatures
Many tools let companies create email signature templates for free. Microsoft has published a catalog of signature templates that includes many designs to choose from - but they all need to be personalized in Outlook. Icons and images from this catalog can also easily be shared with Canva images and icons.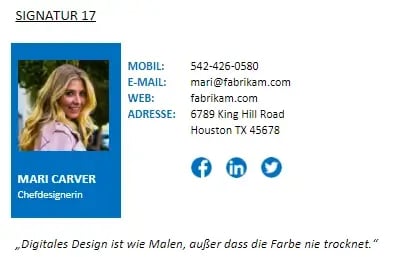 HubSpot's Email Signature Generator lets you specify colors and even add a CTA in addition to the signature content.
Whatever way you choose to generate email signatures, make sure they include the following elements:
Sender's name
Job title
Relevant contact information
Link to company website
Link to social media
Legally required information
Banner for email signature campaign (optional)
In the case of company email signatures, note that they must contain some mandatory information depending on where you do business. Indeed, missing information or misleading information can result in penalties of €5,000 per email. Legally required information can include the company type, commercial register number, the registered office of the company, managing directors and board members, and more. The specific information you need to include differs depending on the type of company and jurisdiction. We've summarized email signature requirements in our article on creating professional email signatures, but we strongly recommend seeking legal advice in this regard.
Email marketing vs. email signature marketing
Email marketing in the classic sense refers to sending emails that have marketing as their purpose. In contrast, email signature marketing is an element of regular email correspondence.
The target groups for the two measures are different. Email marketing specifically addresses potential customers who first provide their email address of their own accord and give permission for contact with marketing intent.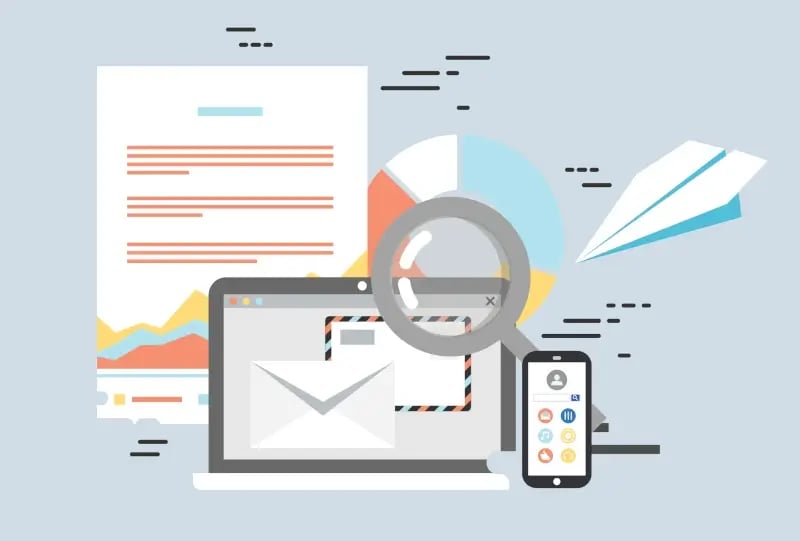 Email signature marketing, on the other hand, is increasingly used in the B2B sector. Short additions to email signatures may point out new products or events. In addition, email signature marketing is a great way to strengthen corporate communications by pointing out successes or news about the company instead of adding a CTA.
Email marketing
Email marketing is part of online direct marketing. Marketing emails inform customers about new products, services, or discount promotions. At the same time they strengthen customer loyalty. For this purpose, contact lists should be segmented and emails should be formulated and sent as one-to-one communication, i.e., contain some kind of personal address. An important advantage of a personalized approach is that the emails are less likely to end up in the recipient's spam folder.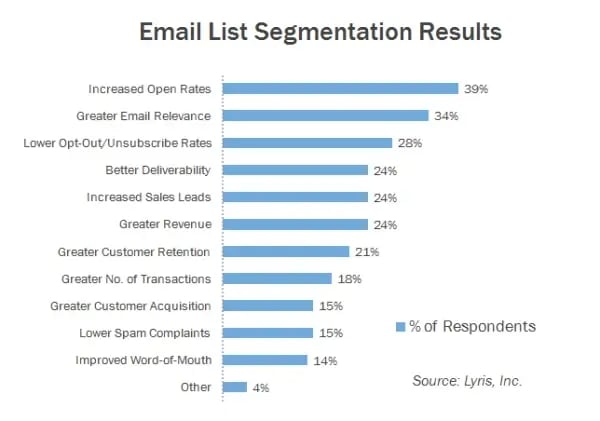 (source: moengage)
Different types of campaigns address customers with different triggers or for different reasons:
Newsletter campaigns: sent out regularly, e.g., monthly.
Transactional mailings: sent after initial contact from interested parties.
Trigger emails: triggered and sent by a specific event (e.g., holidays such as Christmas).
Autoresponder campaigns: automated sequence of emails sent after a trigger.
Nurturing campaigns: maintain, promote, qualify, and contact with specific content.
Learn which email campaign management tools we recommend for implementation!
Email signature marketing
Email signature marketing means adding a CTA to the email signature. This can be either text and a link, or a banner. Did you know that, at least according to the Rule of Seven, a potential customer must see a promotional activity at least 7 or 8 times before they notice it?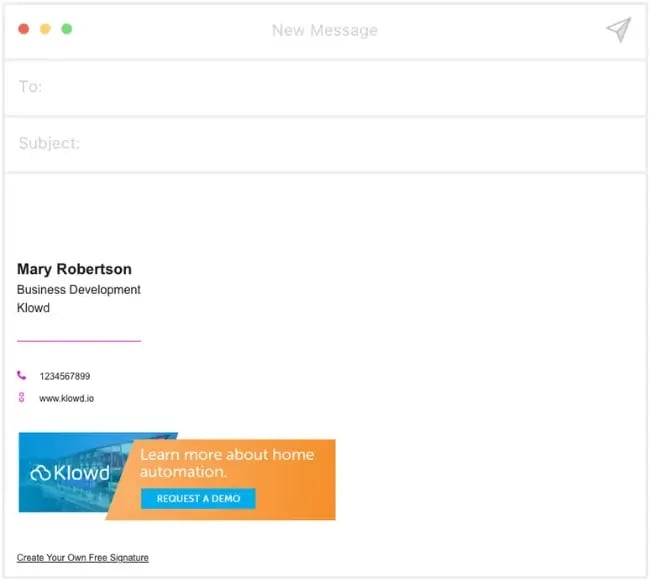 (source: HubSpot)
If you consider that employees send around 34 emails a day externally, you can imagine how many impressions you miss out on without email signature marketing. If you have 100 employees, that's 3,400 emails a day and 850,000 impressions a year that you're giving away if you don't use email signature marketing.
Tips and tricks for email management in Outlook
How can Outlook help you in your daily work besides creating and managing email signatures? We've put together some tips on how to work even more efficiently with Outlook. For recurring tasks, we've summarized some QuickSteps that will ensure you save a lot of time every day. For example, you'll learn how to archive an email and create a task at the same time with just one click.
A major time killer in everyday work searching for certain emails. Even if you have a specific keyword in mind, you may not find the corresponding message. Outlook offers an optimized search for this, which many people aren't aware of.



If you've accidentally saved a wrong email address and constantly send emails to this wrong address, we have a tip for you! Easily remove the incorrect autosuggestions in Outlook.

To professionalize your emails' appearance, activate an automatic spell checker. After all, what good is a perfect email signature if the email is riddled with spelling errors?

If you frequently work with Outlook calendar weeks, always keep an eye on them in the taskbar. And while you're already working with your Outlook calendar, why not also enter holidays so that you don't lose track of them.

You're looking forward to your long-awaited vacation, but an important project must continue in the meantime? Make sure your colleagues can reply to your emails in your absence.

With empower® for Outlook you can manage all your organization's signatures centrally and update them automatically.
Use your email signatures efficiently with empower®!
Around 62% of companies surveyed already use email signature marketing to take their branding to the next level. So it's about time to address this issue to keep up with the competition.
empower® for Outlook is part of our empower® Brand Control solution. Besides automatic implementation of your corporate brand style guide and creation of frequently used text modules, empower® for Outlook enables centrally managed signatures. Ensure that all email signatures comply with legal requirements, and add current and relevant banners to email signatures whenever and however you need.
Contact us! Our experts are looking forward to helping you get the most out of your email signatures!
Subscribe to our newsletter