How to use the empower® Teams App – The starter guide
7 min read
August 14, 2020
Has the Microsoft Teams App also become your constant companion in everyday work? In this article we want to introduce you to the features and functions of Microsoft Teams and the empower® Teams App, including an starter guide. Find out what the Microsoft Teams App can do and why the empower® Teams App enables better productivity.
empower® Teams App – The starter guide
We start with an introduction to the Microsoft Teams App. In addition to installation instructions for desktop and smartphone, we explain the different Teams versions, language settings Apps you can install within Teams. This is followed by the starter guide for the empower® Teams App. You will learn how to find, create and send Office documents, presentations and templates faster, even on the go.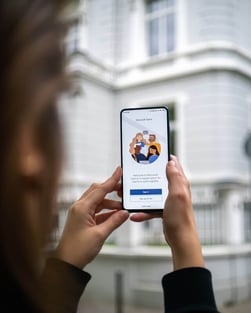 Microsoft Teams App – Communication made easy
For many people, Microsoft Teams is a part of their everyday work. You can use Teams from home, your office or even on the road. Communication within the App is flexible, as you can hold team meetings through various chat functions. Teams offers a platform for the exchange of documents, information and files in addition to text, audio and video chats. Files are shared within chats or team groups such as "HR Team" and are edited by the participants. On a smartphone or computer, the Microsoft Teams App is an efficient way to make (home-)office smarter.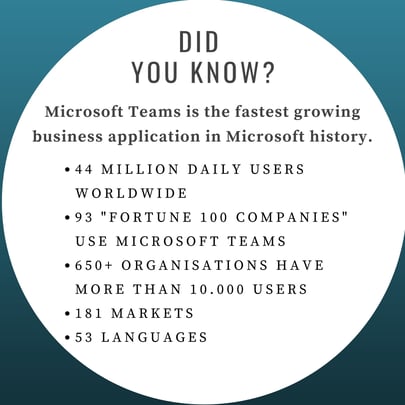 The standard functions of the Microsoft Teams App
Unlimited and mobile chatting
Video meetings with colleagues, business partners and customers (you decide
whether you use Teams internally or externally)
Attend conferences from anywhere (up to 10,000 participants)
Central storage for Office documents
Collaborative editing of files in Word, PowerPoint and Excel
10 GB of file storage for a team and 2 GB storage per user
Integration of external apps
Messages with GIF stickers and emoji function
International communication
Microsoft Teams – FAQ
Can the Microsoft Teams App be used on desktop and mobile?
The Microsoft Teams App works on a desktop, laptops, smartphones and other devices such as tablets.
How do I install the Microsoft Teams App?
Desktop installation

: You can install the Teams App from the Microsoft website. There you will find a login and registration link. You can register using either your company e-mail address or an address from another e-mail service.

Start with Microsoft Teams on your Desktop



Smartphone installation

: Enter the search term Microsoft Teams in the Android Play Store or iOS App Store and download the app to your device. Again, you will need to log in with your email address.

iOS: Start with Microsoft Teams.
Android: Start with Microsoft Teams.
How much does it cost to use Microsoft Teams?
The installation and use of the app are free.
Which Teams version includes all functions?
The paid version in Microsoft 365 contains all functions for Microsoft Teams, it includes more storage space and the use of additional first- and third-party apps. Whereas the free version already offers a wide range of functions and numerous free business apps.
Do I need a Microsoft 365 subscription?
No, you don't. Only if you want to use the paid Teams version.
How do you change the language in Microsoft Teams?
Click on your profile photo in the top right corner of your Microsoft Teams screen.
Click on Settings.
Choose your preferred App language for date/time format and also choose your preferred keyboard language
Click Save and Restart.
More than 250 business apps for Microsoft Teams – you choose
To further increase productivity, it would be great to combine more functions within Teams. You can design your own menu with various free business apps according to your wishes/needs. There are many helpful apps available, for example, allowing surveys or project planning directly in Teams.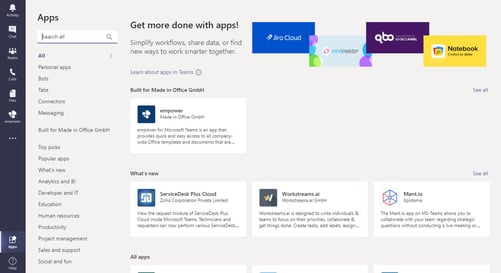 We have already selected the 6 practical Microsoft Teams business apps for you. You can download the apps for free directly from the Teams App Store. The apps are then displayed in the sidebar of the window.
Insider tip: The empower® Teams App for Microsoft Teams
Have you ever wondered whether Office documents, presentations and templates can be found, created and sent more quickly? Also, preferably on the road? It works! With the empower® Teams App.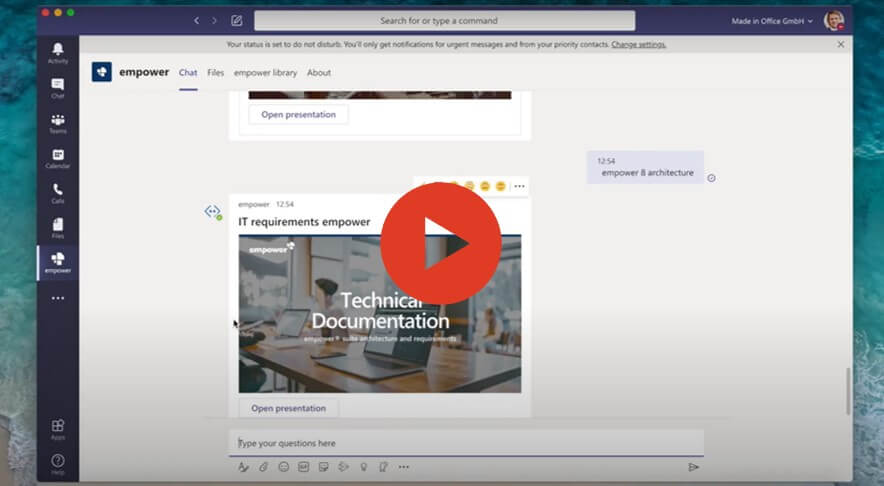 Find PowerPoint presentations and templates in record time
With the empower® Teams App, you can find all your Microsoft PowerPoint presentations, slides and templates directly in Teams via the empower® Library. You type in one or more keywords and the chat bot will answer with the best search results. This saves you endlessly searching for specific PowerPoint templates. Other content from your empower® Library such as diagrams, tables, pictures, videos and icons can also be found quickly in the same way.

Directly in Teams: Edit and share your Office content
In a Teams chat you have the possibility to download the searched document or open it directly in the Teams window, internet browser or the Office/empower® Desktop App. Now you can make manual changes to the document, which are automatically saved in the chat history but do not affect the original document from the empower® Library. The customized PowerPoint presentation can be made available directly to colleagues via a Teams link or OneDrive without leaving the app.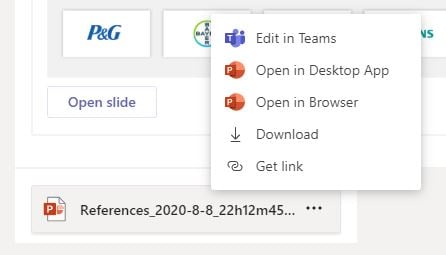 Company-wide templates in one app
In addition, you can browse the entire empower® Library in the familiar folder structure through the application's menu bar. Would you like to create a new PowerPoint presentation? It's only a few clicks away. Use the company's portfolio of PowerPoint templates and add them to your "list". Language and display filters help you to find appropriate slides and chart templates. From the list, you can download the new PowerPoint presentation directly or open it for changes in the desktop app'.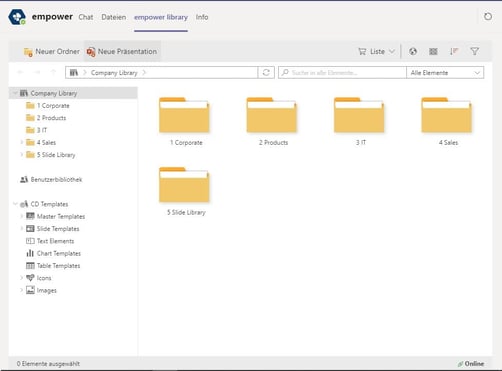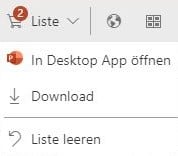 All functions of the empower® Teams App can be executed during a call/conference, so you don't have to wait until after the call to work on the presentation.
Create presentations easily on the road
Best of all, everything is possible from your smartphone or any other device, meaning you can access all documents and templates from anywhere. The empower® Library can be opened via Office online or the empower® web app. So you can even create new PowerPoint presentations on the go. This also works with the list function. You can create PowerPoint presentations from your smartphone with a few clicks and send them to your colleagues before you arrive at the office.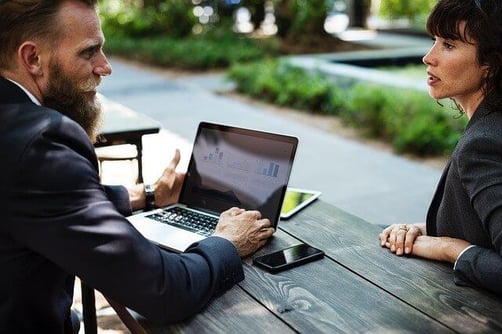 Because content is stored centrally in the empower® Library, it always complies with corporate design, so there is no need to adopt manual font, shape or color settings.
Save a lot of time and make working wherever you are easier with the empower® Teams App.
Advantages and functions of the empower® Teams App:
Chat:
Quickly find specific PowerPoint presentations, slides and content
Effortlessly open all Office templates and documents in Teams, in the browser or on the desktop/device app
Integrated download function
Convenient sharing of PowerPoint presentations in Teams or via Onedrive Upload
Design conformity in every document
All content is always up to date
History in the chat: Stored chat history with empower® bot
All processes within the Microsoft Teams App
Library:
Location-independent access to the central company library
Few clicks to create new PowerPoint presentations (even on the road)
Language filter
Other filters: Presentations, Slides, Text & Shapes, Charts, Tables, Images, Videos, SmartArt, Masters
Access to individual slides of existing PowerPoint presentations
View: Detail, Large Tiles, Tiles, List
Sorting: Name, Date, Usage, Author, User-defined
Renaming and deleting files
Creating new folders
How do I start with the empower® Teams App?
The empower® Teams App works in combination with an empower® subscription. Log in with your empower® access data (SSO) on a device and start.

The empower® Teams App is a real time saver
Give yourself and your company more time for other tasks by integrating the empower® Teams App into your workflow. As a base for this, you choose an empower® product that is tailored to your needs. In this context, the PowerPoint Add-in empower® Slides fits best. With empower® Slides, PowerPoint templates and slides, pictures, diagrams and much more are easy to find, design-compliant and always up to date. Start now with empower® to create your presentations 30% faster.
If you want to learn more about all the basics and advanced features, have a look at our extensive Microsoft Teams Guide.
Subscribe to our newsletter