A digital asset library – content at your fingertips
6 min read
March 21, 2023
A digital asset library is a centralized storage location, or library, for digital assets that organizations use to store, manage, and share all their digital content: images, videos, audio files, documents, and other types of media. The purpose of a digital asset library is to provide a "single version of the truth" where you can access, share, and collaborate on digital assets to improve the efficiency and consistency of your workflows. In short, it's content when, where, and how you need it.
In this article we will clarify the following things:
Benefits of a digital asset library
Key benefits of a digital asset library include:
Improved organization:

asset libraries enable companies to store and categorize digital assets in a way that makes them easy to find and use. An important point here is also knowledge management, which is of great importance for a company's success.
Better collaboration: asset libraries provide a central platform, making it easier to share ideas and feedback.
Increased efficiency: with all digital assets stored in one place, teams can quickly find the assets they need to do their jobs, saving time and increasing productivity.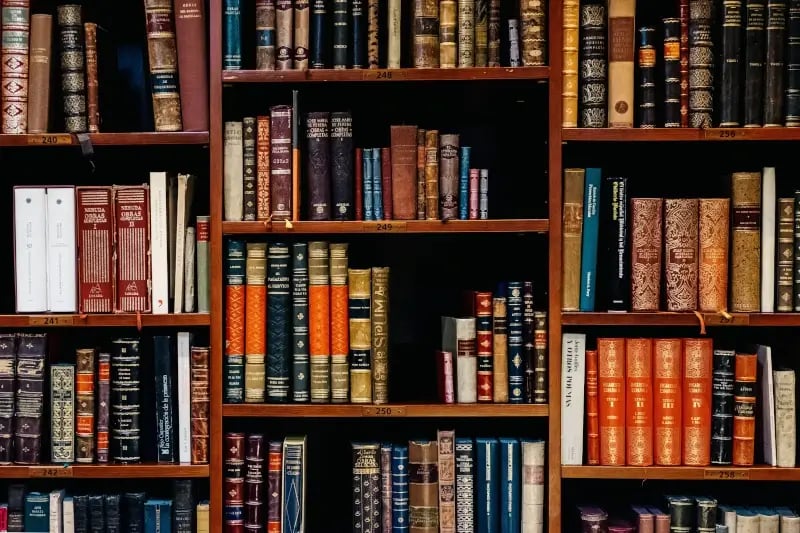 Enhanced security: asset libraries are often equipped with security features such as password protection and access control that help organizations keep their digital assets safe and secure.
Long-term discoverability: asset libraries also serve as a long-term storage solution, allowing organizations to preserve their digital assets for future use and reference.
Managing content in a digital asset library
A digital asset library can only develop its full potential if you maintain and manage it regularly. We've put together a few tips for you:
1. Organize your assets
Create a logical folder structure and group related assets together. You can also add metadata to your assets, such as tags, keywords, or descriptive information, to make it easier to find assets in the future.
2. Implement version control
It's important to keep track of the different versions of your assets as changes are made over time. You can implement version control by adding a version number to the file name or using a digital asset management system that automatically tracks changes.
3. Save assets in the correct format
Be sure to save your assets in an appropriate format to ensure they're usable and maintain their quality. For example, save images in a lossless format such as PNG or TIFF, and save video and audio files in a format optimized for editing and playback.
4. Secure your assets
Regular backups are important to ensure your assets are protected in the event of a hardware failure or other unexpected event. You can back up your assets to an external hard drive or use cloud storage services such as Google Drive or Dropbox.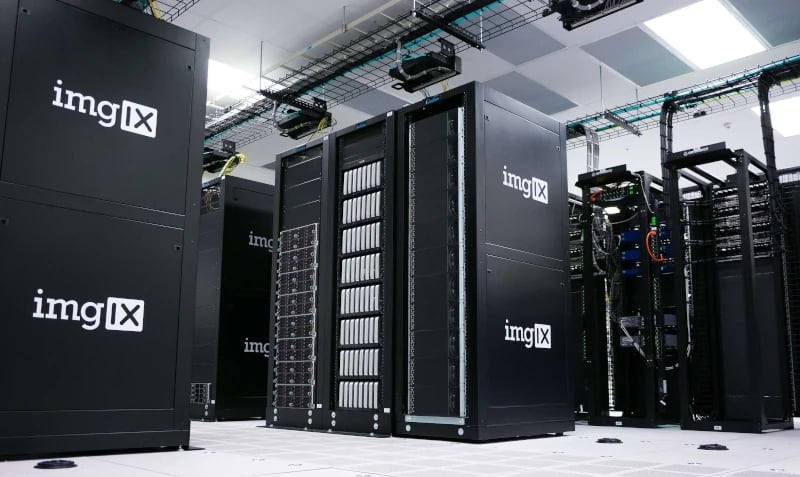 5. Manage access to your assets
Control who can access your digital asset library and what access rights they have. You should set up user roles to simplify the access management process.
By following these steps, you can effectively manage your assets in a digital asset library and ensure that your digital content is well organized, protected, and easily accessible when you need it.
Setting up your digital asset library
Unfortunately, a digital asset library doesn't create itself. To make your life easier, we've created a seven-point checklist for you.
1. Determine your needs
Before you set up a digital asset library, you should consider what types of content you want to store, how they'll be used, and who'll access them. This will help you find the right software or system.
2. Choose a system
There are several options for setting up a digital asset library, including cloud-based systems like Google Drive or Dropbox, enterprise-level digital asset management (DAM) software - not to be confused with brand asset management - or self-hosted systems like a network attached storage (NAS) device.
When choosing a system, consider your budget, the number of assets you want to store and the level of security and accessibility you need. One of the most popular digital asset libraries is Microsoft SharePoint. SharePoint includes features such as document libraries, lists, blogs, calendars, and task management that can be used to improve productivity and streamline workflows. SharePoint is often used in conjunction with other Microsoft Office applications.
3. Set up your library
Once you've decided on a system, you now set up the necessary folders, categories, and metadata fields to organize your digital assets.
4. Implement a naming convention
Set a naming convention for your assets to ensure consistency and ease of use. For example, you can use a standard format for asset file names.
5. Import your digital assets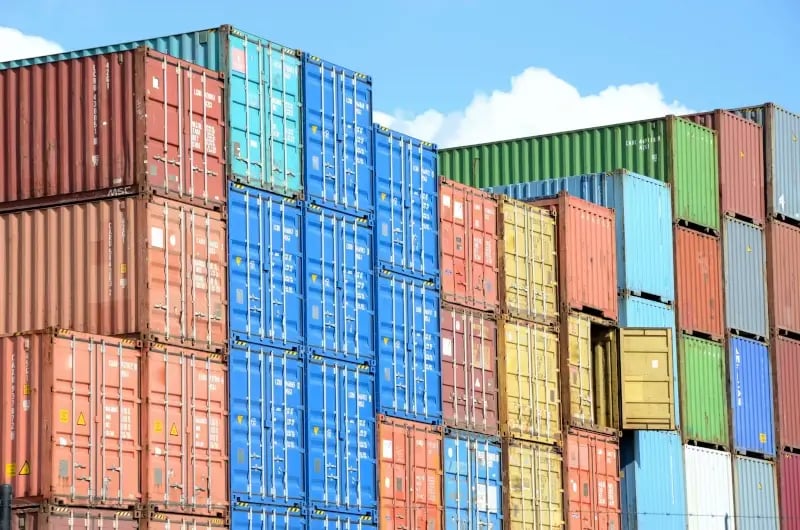 Import your assets into the digital asset library and add new assets as you create them.
6. Define access and permissions
Determine who can access the digital asset library and what access rights each person has (e.g. read only, edit, delete). Set up appropriate user accounts and permissions. You can do this using Active Directory, for example. Active Directory allows you to organize user and computer accounts and assign accesses to them. You can assign specific permissions to a group of users as well as to individuals.
7. Maintain and update the library regularly
Finally, review and update the assets in your library regularly to make sure they are up-to-date and accurate, and that you don't lose any data.
By following these steps, you can create a digital asset library that helps you effectively organize and manage your assets for long-term brand communication success.
Finding the right content effortlessly: empower® Content Enablement
Do you want to make slides available directly in PowerPoint, update content company-wide at the push of a button, and compile presentations in seconds? Then the empower® Content Enablement solution is exactly what you need. Not only will you strengthen efficiency in your company, but also your brand in every PowerPoint presentation!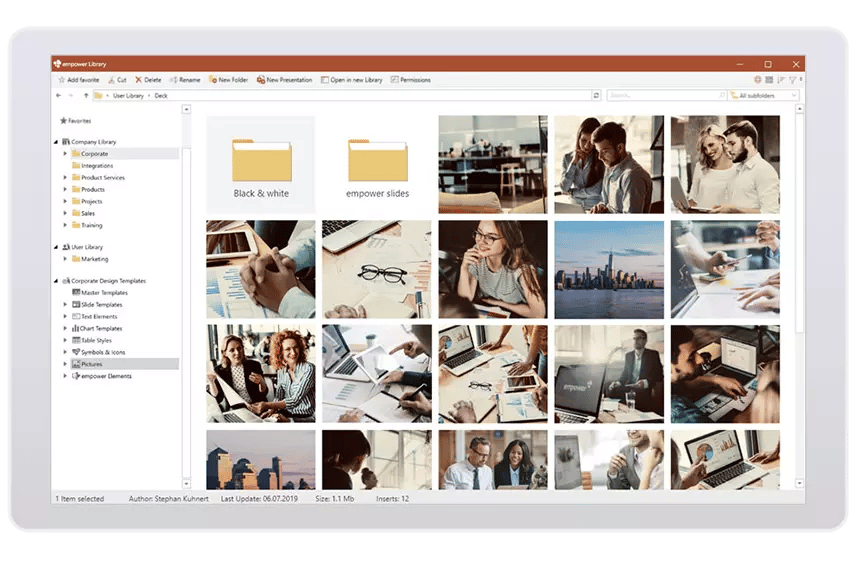 The Content Enablement solution provides your content when, where and how it is needed. All your documents, templates, etc. are stored in a library. From Office applications you can directly access and insert these files from the library.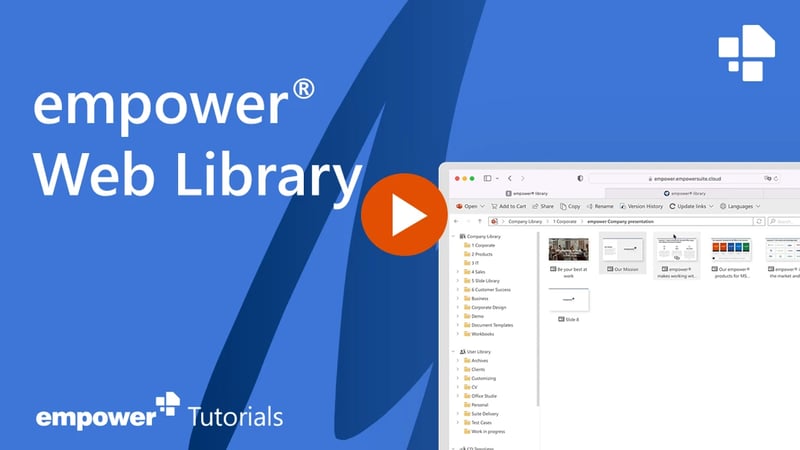 Benefits of empower® Content Enablement
Improved collaboration: the empower® Content Enablement solution allows multiple users to collaborate on a presentation in real time, making it easier for teams to work together on a project. This leads to more efficiency and more consistent presentations. Moreover, our Content Enablement solution can be used not only in PowerPoint, but also in Excel and Word.
Professional and up-to-date design: with the empower® Content Enablement solution, you can easily manage numerous templates and distribute updates across the company with just a few clicks. Templates enable users to create professional-looking presentations and documents without the need for in-depth design knowledge.
No more long searches: Thanks to the Google-like search function, you won't have any problems finding your documents, as the central library is directly integrated into Microsoft Office.

Improved accessibility:

the empower® Content Enablement solution is web-based, so presentations can be accessed form anywhere with an internet connection. This is especially useful for teams working in different locations or for presentations to an international audience.
No more outdated content: when users open an existing file, empower® Content Enablement checks whether the content is still up to date. If it isn't, the most up-to-date content is made available. No more accidental use of outdated content. No more manual checking of up-to-dateness.
Do you have any further questions? Would you like to test our empower® Content Enablement solution? Then contact us!
Subscribe to our newsletter