Rebranding strategy – what you should consider
Developing a rebranding strategy is about much more than just a new logo. It is about visualizing the core message, the direction of your company's image, and the corporate values. Every rebranding makes huge waves in the fields of corporate and brand communication. Why rebranding is important from a strategic point of view, what rebranding strategies are available, and how you can easily manage these changes in corporate communication, are the topics of this blog post.


Corporate design: a key aspect of any rebranding strategy
Corporate design is an essential means of transmitting a company's identity. As soon as the public perceives your company differently than you intended, it is time for a rebranding. Some reasons for that kind of misalignment include market and/or target group changes as well as new company orientations.
Microsoft's logo development shows what a successful implementation of a rebranding strategy can look like in terms of evolving corporate identity over several decades: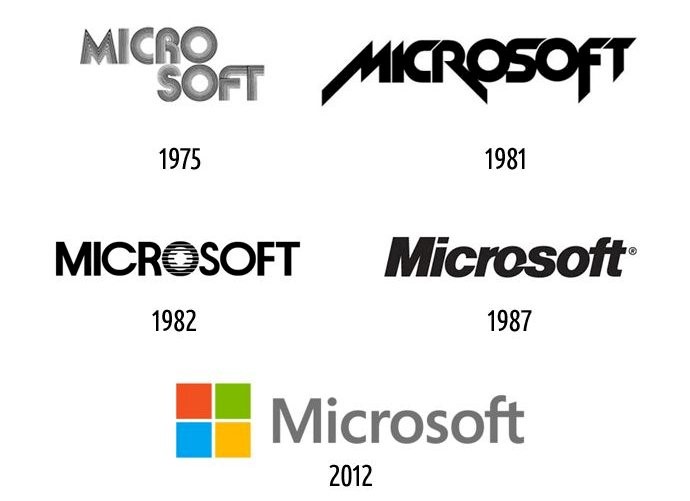 source: Microsoft
Strategic reasons for rebranding
The most important motivator for a rebranding is probably that the company's goals have changed and can no longer be communicated without a rethink. Other reasons for the development and implementation of a rebranding strategy include:
Employees and target groups no longer identify with the brand.

The corporate design is no longer up to date.

The market for the brand seems saturated or its potential cannot be exploited.

Brand values should be adequatly communicated through new, dynamic branding.

Loss of identity of the company.

Development of a new, global brand strategy.

Change in corporate structure and/or orientation.

Objective of the rebranding strategy: new make-up or plastic surgery?
There are two approaches to rebranding:
Back to square one!
Radical redesign: you hit the reset button, erase everything, and start from scratch. However, this drastic form of rebranding is only advisable if you face a mishmash when it comes to your corporate image, your brand has lost traction, or the company is reorganizing. A complete overhaul of corporate design - unless absolutely necessary - usually does more harm than good. The American fashion label GAP serves as a good example of a rebranding strategy gone wrong. In 2010, the clothing chain's 20-year-old logo was supposed to shine in a new, contemporary look. The result was emphatically rejected by customers. After just six days the company switched back to the old logo. That brief rebranding spree reportedly cost GAP around $100 million. Another great

example for a successful global rebranding

is the development from Andersen Consulting to Accenture.
left: old (new!)
right: new
Image from website of Canny


Revamp
If most of the elements of your corporate identity are working, your brand is established and enjoys a high recognition value, then it makes little sense to change these elements or even completely redesign them. However, if that is what you are planning, we have some tips for redesigning your Corporate Identity. In such situations, the goal of the rebranding strategy is rather to polish aspects of the corporate design that are no longer up-to-date. Before you start optimizing your corporate image you should first determine which elements will remain, which will be revised, and which will be replaced or deleted. Microsoft Office shows how a rebranding strategy can be optimally implemented over a long period of time.


Image from the website of flinnwest
From rebranding strategy to implementation
Rebranding is an extensive and sometimes difficult task. A well-researched and well-planned strategy is a basic prerequisite for the success of the project. The following approach can serve as a guide:
Identify the mission, vision, and values
These three points are the cornerstones of your brand. If the mission, vision, and values are not clear, the team must define and implement them in your realignment.


Develop a holistic rebranding strategy
A rebranding strategy encompasses the overall look and feel of your brand. If you only need a partial rebrand then new elements must harmonize with existing components. Also think about the channels through which you communicate your brand.




Evaluation of existing brand elements
Before you resort to the red pen as part of the rebranding strategy, analyze in advance which elements of the current brand work well. You should retain those because they convey continuity and trust to your target group.


Research the market and competitors
Take a close look at your competitors' branding. What works for them? Also, analyze the market and watch for new branding trends. Keep in mind, however, that not every branding trend is a good fit for your company. Keep the longevity of your brand in focus.


Rebranding strategy and its implementation is a team thing
Involve multiple business units in the rebranding strategy from the beginning. Stakeholders, management, sales, HR, marketing, etc. provide valuable information, views, and ideas.


Detailed project management ...
... is essential for the development and implementation of a rebranding strategy. Define timelines, areas of responsibility, work deliverables, problem-solving, etc. from the beginning.


Communicate your new, refreshed brand
After the successful implementation of the rebranding strategy, take credit for your work. But do not just communicate the new look of your brand; also explain the reasons for the rebranding to your target group. That way, you avoid any confusion on the part of your customers and strengthen brand loyalty through transparency. Pro-Tipp: Communicate your new branding to employees via a centrally available brand style guide.
empower®: Consistently implement rebranding strategy throughout MS Office
Updating branding in MS Office is actually quite simple - given the facts that you use the empower® Add-ins for Microsoft Office. With empower®, you can update Office documents stored in the empower® Library to a new design with just a few clicks. That applies to Word documents, PowerPoint slides, Excel charts, and images, among others, as well as to updating email signatures and templates.

If you are not yet using empower® and need more information about our Microsoft Office add-ins, contact us now!
You can find more information about in our rebranding guide. Our list of rebranding success factors may also help you to focus on the most important aspects.
Subscribe to our newsletter