Digital collaboration: teamwork re-thought
5 min read
February 10, 2022
After almost 2 years of working under the restrictions of the Corona pandemic, a lot has changed in the way we work. Working from home and mobile workplaces have become the norm and digital collaboration has moved to the center of many jobs. The challenges around collaborating digitally also present opportunities. Here we cover what you need to know about digital teamwork and which tools you should have on your radar.
Digital collaboration as a chance
The concept of virtual collaboration is simple - working on tasks and projects together at a distance using digital devices and technology.
This can apply to different areas such as
project management for planning and distribution of tasks and deadlines
communication via chats, messages, and video conferences as well as an intranet
virtual brainstorming and design
content management and editing
storage and transfer of content


The often abrupt change to a mobile workplace poses challenges - new tools and working contexts to get used to. But digital collaboration also offers opportunities to increase productivity and morale. A 2013 study showed that digital collaboration increased employee satisfaction by 17%. Digital collaboration also improved productivity, communication quality, transparency, and morale.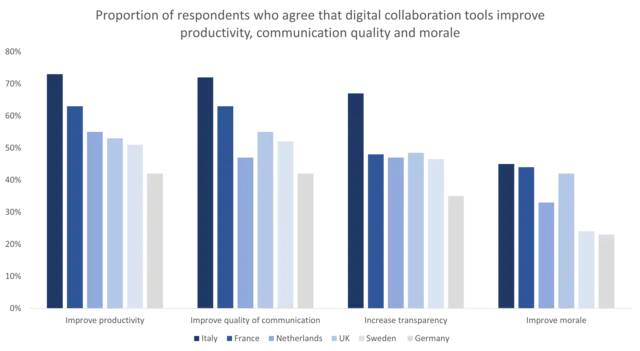 Source: Deloitte
Always keep data privacy and security in mind
One factor that must always be kept in mind with digital teamwork is data protection. Because data is no longer kept locked away in filing cabinets but is available almost everywhere when working on the move, data must be handled more sensitively than you may be used to. Unfortunately, there is no simple solution, but you should always make sure that only people who really need the data have access to it. The Paritätische Wohlfahrtsverband has written a white paper on data protection in collaboration tools (in German) that can be very helpful here.
In connection with data protection, general security when working with collaboration tools is of course also a challenge. Employees often work in home offices and use their own networks and mail programs. This increases the risk of cyberattacks. We show you how you and your colleagues can protect themselves in our blog article on cyber security in the home office.
The right tools make the difference
Enabling virtual collaboration means providing the right tools. There are a number of things to consider. The variety of collaboration tools can quickly become overwhelming and confusing. Companies need to decide whether they want their data storage and tools to be on-premise or in a cloud. When deciding on a tool, their data security, especially data encryption should be taken into consideration.
Be careful not to shower people with too many tools. But it is almost impossible to cover all needs with a single digital communication tool. When choosing tools for digital collaboration, you should keep the following rules of thumb in mind:
Choose tools strategically and carefully.
Do not overwhelm people with too many tools.
Enable a smooth exchange of files.
Introduce your colleagues to new tools in a detailed and understandable way and explain how to use them.
So, now that you know what to look for when selecting virtual collaboration tools, we would like to introduce you to some digital communication tools in different areas.


Digital Collaboration tools - a selection
Microsoft Teams

Microsoft Teams is famous as a platform for digital collaboration - and rightly so. The Teams collaboration platform is included in the Microsoft 365 suite, which means that many companies that use programs such as Word, PowerPoint, or Excel already have access to Teams. The integration into the Microsoft 365 suite is underlined by the possibility of working together on documents within Teams.
The foundation of Teams is in its name: teams. These provide a hub for specific topics and can in turn be divided into different channels. Within teams and channels, members can exchange messages and files. In addition to these options, Teams can also be used for video conferencing, messaging, and planning and conducting meetings. Teams offers a holistic approach to digital collaboration and covers many of the most important functions.
Microsoft SharePoint
Closely related to Teams is Microsoft SharePoint. Every Teams channel automatically has a SharePoint team website as well. At the core of SharePoint is the ability to create your own websites to organize information, post messages, and make it easy to navigate to specific documents, media, and other files. For digital collaboration, you can create a wiki on a specific topic to help other teammates get started quickly. By organizing it as a website, you can also manage permissions at the website level, making it easier to access files.
Trello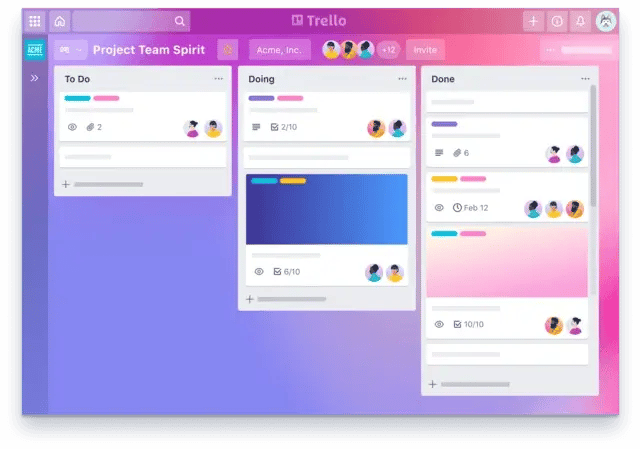 Another tool that can help you with online collaboration is Trello. This is a free Kanban board. With Trello, individual tasks are displayed as cards on a board. A card can be assigned to a suitable person or people can search for tasks on the board themselves. The board is divided into different areas (e.g. "still to do", "in progress", "done") in which a task moves through one after the other. As a digital platform for collaboration, Trello serves as a quick way to manage tasks. Anyone with access to a Trello board can see what is currently to-do and who is currently working on which tasks.
Collaborate even more effectively with empower®
Do you want to make digital collaboration in your company as effective as possible while relying on the familiar programs of the Microsoft 365 suite? Then empower® is for you! It supports you to create a Digital Workplace with MS Office while upholding Microsofts data security standards.
When it comes to virtual collaboration, probably the biggest challenge is to keep track of everything. Where are the files located? Which template is the current one? This is where empower® can support you.
With empower® you can search for PowerPoint presentations, slides, and templates directly within Microsoft Teams in record time. Simply enter one or more keywords and the chatbot delivers the matching search results. The documents can then be edited and shared directly in the chat. You can find an overview of all empower® functions in our blog post about the empower® Teams app.
But empower® does not only make your employees more effective in Microsoft Teams. Thanks to the empower® Library, they can work together on presentations and documents and share them as easily as pie. With empower® you ensure that the latest version of the right template is always used - both online and offline. So nothing stands in the way of successful digital collaboration.
Make an appointment without obligation to learn more about digital collaboration with empower®.


Subscribe to our newsletter