The top 5 brand management software tools 2023: Brand Management made easy
Equally, with brand management software and corporate communication, different tasks require different solutions. However, companies looking for suitable brand management tools face a wide range of options. In this blog post, we present five top brand asset management applications that make your life easier and your brand stronger.
What is brand management software?
Brand management is one of the most important tasks in corporate communications. It encompasses presenting and communicating the company and its brand identity in a uniform, consistent, error-free, and effective manner. Considering the volume of documents, e-mails, digital and analog advertising media, etc., that undertaking can easily become a mammoth task without support. This is exactly where brand management tools come into play.
Benefits of brand management software
Ensure that the uniform appearance of your brand is communicated strategically, efficiently, and in an interconnected manner.
Documents, presentations, etc. can be stored and edited by the team in cloud-based libraries.
Facilitates workflows considerably, not only with regard to brand and corporate communication but also company-wide.
In addition to DAM, the related field of brand asset management must not be forgotten. Do not underestimate the individual terms and, above all, do not make the mistake of confusing them. In our article "What is Brand Asset Management?" we show you the differences between the similar term Digital Asset Management and the significance of both marketing disciplines.
#1 uptempo – a brand asset tool focused on marketing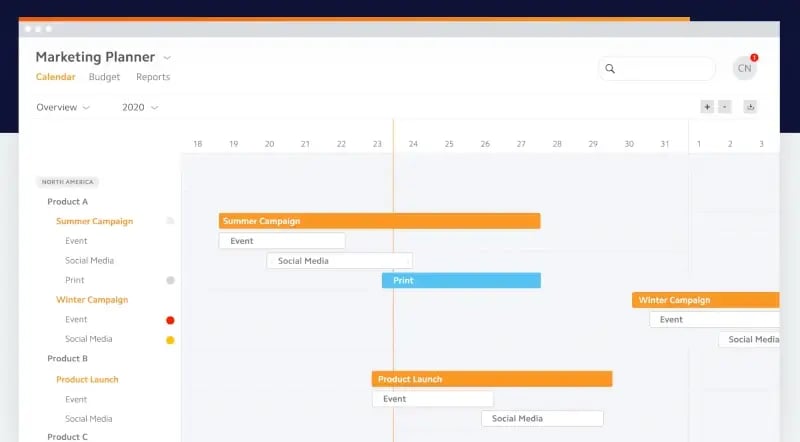 Marketing and brand communication go hand in hand. The brand management software uptempo (former BrandMaker)" has set itself the goal of simplifying marketing resource management. It declares war on long spreadsheets and minimizes reporting efforts. Among other features, BrandMaker includes a Digital Asset Manager, a cloud-based library for all your digital and multimedia content. With uptempo, you can accelerate your marketing business and get clarity on the financial and business impact of marketing campaigns.
For corporate communications, BrandMaker's "Brand Portal" is particularly interesting. Here, employees, partners, and agencies can access the central knowledge base of your brand. Depending on access rights, all parties can request materials, retrieve relevant marketing info, and edit it in line with the brand.
#2 Chorus – the brand asset management tool for content creators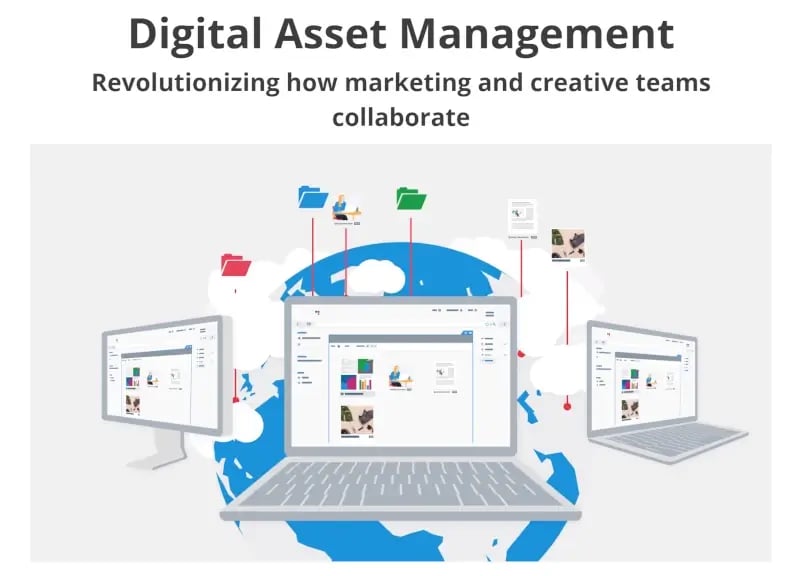 Third Light's brand management application "Chorus" was developed primarily for companies that work with many different digital media. Examples include marketing agencies, photo and video studios, and publishers. The heart of Chorus is its cloud-based file system. It enables easy working with all media files stored there. These can be synchronized, shared, and edited by all team members in real-time. External persons also have access to these files if you wish. The direct messaging function further facilitates collaboration. Further advantages of Chorus are the automated file search, the tracking of work steps and the monitoring function.
#3: Kontentino – a brand management tool for social media content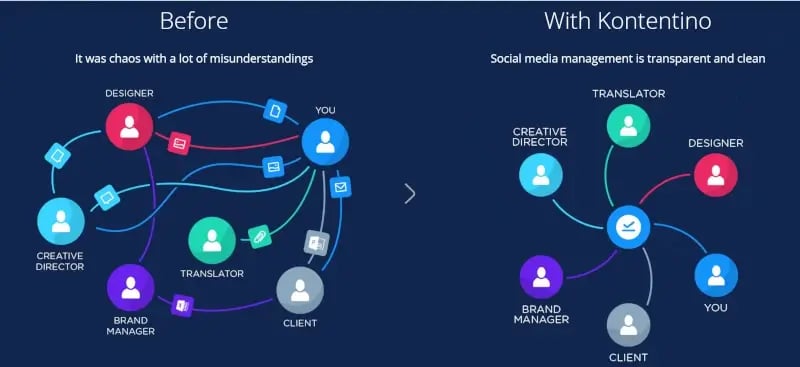 Social media like Instagram, Facebook, Twitter, etc. play a decisive role in brand and corporate communications. These channels are suited not so much for direct marketing. Instead, they are ideal platforms for creating communities and using them to communicate your brand. This is exactly where the brand management application "Kontentino" comes in. With Kontentino, you can coordinate your team's workflow, create content as a team and schedule its release.
The core of this brand management tool is its organization planner and social media calendar where content can be easily added using drag-and-drop. After publication, you can compile a report in just a few steps.
#4: Canva – a brand management software solution for creative projects

The free design software "Canva" is a must-have for many small and medium-sized companies that want to craft creative content that complies with corporate design. The usability of the software is convincing: its many templates make it easy to create different content formats in sync with brand guidelines. Also, it facilitates developing, sharing, and editing projects together in real-time. The free version of this brand management tool provides you and your team with 5GB of online storage for digital assets. In addition to the free version, there is also a premium version and a version for large teams, each of which offers you 1 TB of online storage.
#5: Uberall - location marketing management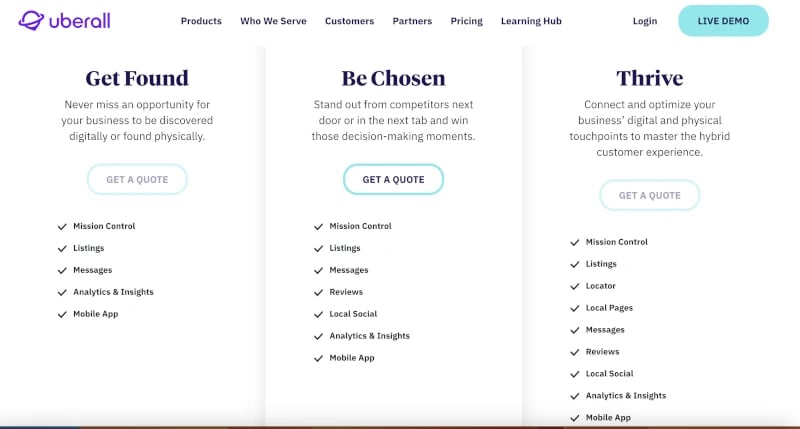 With Uberall, you can control your entire internet presence - whether website, social media channels or in search engines. Uberall does this by increasing the local visibility of your brand, which leads to an increase in sales at a local level. The tool is not limited to Google, but also ensures that your brand becomes more discoverable in Apple Maps, for example. You can choose between three different versions that will significantly increase your monthly impressions and lead to more conversions.
#6: Frontify - brand asset management

Frontify is a cloud-based platform that centrally manages brand guidelines, design templates, logos, fonts, typefaces and colour palettes. The tool allows users to organise, update and share branding components so that the brand is represented consistently across all channels. Frontify also offers DAM (Digital Asset Management), which allows you to store and organise digital assets such as images, presentations or documents. Users can tag these assets, add metadata to them or download and share them in different formats.
#7: empower® - brand management software focused on MS products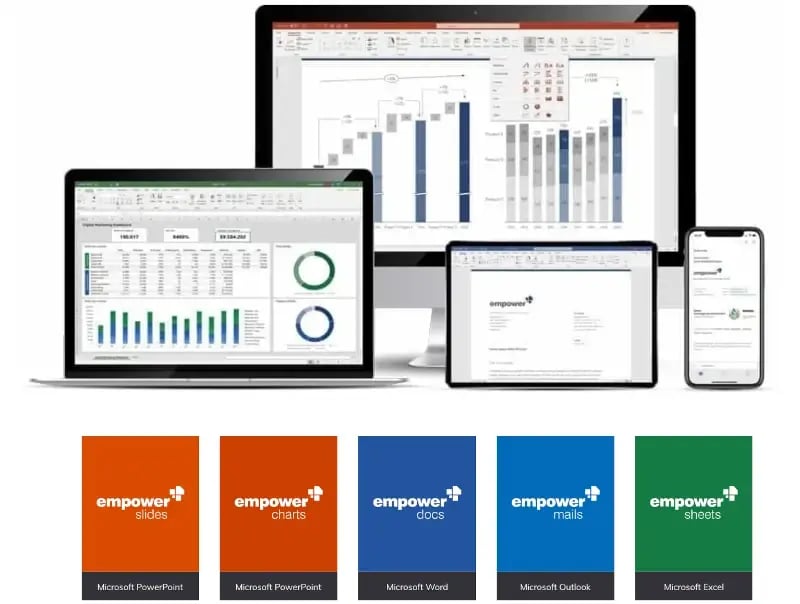 The empower® add-in Suite for MS Office belongs among the top 5 brand asset management tools. Our software solutions focus on the core MS Office programs - Word, Outlook, PowerPoint, and Excel. empower®'s goal is to present all your MS documents in a uniform look according to the guidelines in your style guide. All team members can access templates, signatures, and slides via the central library. Design checks included in this brand management software automate the correction of corporate design deviations. Its productivity tools lead to a considerable reduction in workload per MS Office user of around 30%.

The brand management software tools from empower® easily connect to various DAM systems. The brand elements stored there - images, icons, graphics, etc. - can be used directly in MS Office.
Brand management software that suits you
The variety of different brand management software is overwhelming at first glance. The key is to find the solution that will be most helpful to you and your team.
It helps to analyze your team's workflow in detail when choosing brand management tools. Pay attention to all the processes that take place every day. Then highlight the areas that take up a lot of time and can possibly be optimized. That way, you can better see what features your brand management tools need to have. Also, keep in mind who works with the software most often. That highlights the necessary access options that the brand management software should provide.

The MS Office add-in Suite empower® - especially regarding the uniform appearance of your corporate design on all MS Office applications - is a must-have brand management tool for every company. The best next step is to get to know empower® yourself: Get started!
Subscribe to our newsletter